Allen West's Dumb Rhetorical Excess
Topic: CNSNews.com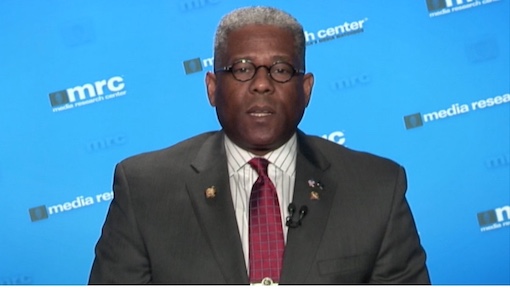 Media Research Center "senior fellow" and CNSNews.com columnist Allen West has a propensity for some really dumb rhetorical excess.
In a Dec. 2 column, he actually declared that we are living in "the real Hunger Games." Why? Because some want to abolish the Electoral College and have a direct popular vote for president:
This was established to give the smaller states, more rural areas, an equal voice to the larger more populated centers, areas, States. Yes, Hillary Clinton won the popular vote in the 2016 election, translating to some 12-13 states. In the Electoral College, it was a landslide victory for Donald Trump, who won close to 38 states. Now, what do we hear from the progressive socialist left? Yes, end the Electoral College, they prefer the tyranny of a pure democracy…the rule of "The Capitol" over the Districts.

Sadly, this is happening in many of the States in our Constitutional Republic, and I do not find it by coincidence. If there is one thing about the left in America, they are highly strategic. They are relocating into economically successful and strong conservative States and turning them blue, based upon the concept of "The Hunger Games". They are fortifying themselves within the cities, the population centers, which are often strengthened by the academic, media, entertainment, cultural, and political elites.

The greatest amount of despair, despondency, death, crime, pestilence, and corruption is found in our large American cities…and we know who controls them. Thomas Jefferson was so very prescient, and correct, with this assertion. And isn't it rather interesting that the left wants more public transportation and electric vehicles which regulate, constrain, the movement of Americans?

We are living in the real Hunger Games.
Yes, in West's right-wing mind, making everyone's vote for president count the same is exactly the same as "The Hunger Games."
On Dec. 16, West insisted that the FISA court was no different that the notorious Stasi intellligence agency in Soviet-controlled East Germany -- and, of course, immediately throws Bernie Sanders into the mix:
Last week, the Department of Justice Inspector General Michael Horowitz revealed that we have a New American Stasi. As a Member of Congress, I had voted against the renewal of the Patriot Act, a main reason was the Foreign Intelligence Surveillance Act (FISA) court. I could not, and still cannot, fathom having a "secret" court that has the power to grant warrants to conduct surveillance, spying, against American citizens without their knowledge, or ability to defend themselves. That is a complete and utter violation of our Fourth Amendment rights, yet this is what happened.

And last week, Mr. Horowitz confirmed my greatest concerns: Seventeen inaccuracies and omissions were made to this secret court in order to obtain warrants to conduct surveillance, spying, against American citizens. And yes, the entire Mueller special investigation which was enacted for one reason, but veered greatly off course, and certain political opposition have found themselves in sentenced to prison.

This is how things happen when progressive socialists are in power. What perhaps started with every good intention of keeping us safe from Islamic jihadists and terrorist attacks is now being used against political opponents. I have always admired the hypocrisy of socialists, communists, to claim the title of "Democratic", such as East Germany did, and North Korea does today. It is a means by which they attempt to deceive and wrongfully label themselves…such as Bernie Sanders with his "Democratic Socialism."

[...]

We have developed terms such as "Deep State." We have folks calling themselves the #resistance. What we truly have developing is a New American Stasi…tactics are the same, as well as the objectives.
West would never concede that the people who actually in power -- that is, the Trump administration -- would behave in a Stasi-esque way, for instance, by trying to destroy the life of the whistleblower who exposed Trump's phone call with the Ukrainian president.
In his Jan. 13 column, West ranted that following an election that saw Democrats gain full control of the Virginia legislature, Gov. Ralph Northam "and his leftist minions are following Lenin's playbook with forcing universal background checks, banning certain firearms, and implementing red flag laws. And we should not be surprised." West did not explain why red-flag laws -- temporarily taking weapons away from people who may be a danger to themselves or others -- is just like communist gun confiscation.
By his Feb. 17 column, though, West had notched things down to being merely dumb. He portrayed all Democratic presidential candidates as being just as "soclialist" as Bernie Sanders and their rhetoric as "New Coke," adding: "There is nothing new and improved about the American progressive socialist left's formula, it is all the same, a recipe for disaster." Still, he couldn't help himself by injecting a falsehood into his argument:
You recall, during the Carter administration when it was asserted that every American had a "right" to own a home -- the Community Reinvestment Act. Thirty years later, we saw the results of government intrusion into the private sector mortgage industry, a financial meltdown. Of course, we are told today by the left that healthcare is a right. That is how the left will always frame their objective of government control of economic means of production.
As experts have said for years -- and as we pointed out years ago -- the Community Reinvestment Act played an insignificant role in the 2008 financial crisis, since most of the mortgage lenders doing the subprime lending that drove the crisis were not subject to the CRA's provisions.
Posted by Terry K. at 11:40 AM EST