For WND's Brown, There Is No Bottom Where Trump Is Concerned
Topic: WorldNetDaily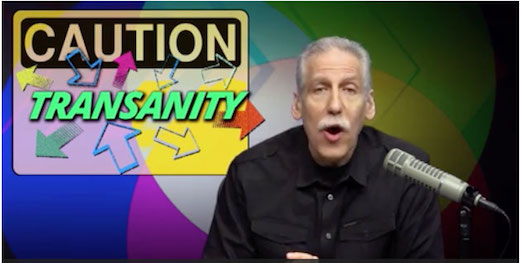 We've detailed how WorldNetDailiyu columnist Michael Brown has made it more than abundantly clear that he'll ride or die with President Trump no matter how evil he gets, as long as he continues to deliver the goods that boost the right-wing agenda Brown supports. Brown summed it up again in his Feb. 5 column:
President Trump's State of the Union message, coupled with the Democratic response, reminds me of why I voted for Trump in 2016 – and why I plan to vote for him again in 2020. The contrasts are just too extreme. I am conscience-bound to vote against the radical left and to vote for the causes Trump will uphold. Everything else pales in comparison.

I am voting against House Speaker Nancy Pelosi tearing up the president's speech for the whole world to see.

[...]

And so, when I vote for Trump, I am voting against the socialism of potential Democratic nominee like Bernie Sanders. The effects of his proposed policies, along with those of other leading candidates, would be disastrous.

I feel conscience-bound to cast my vote, a vote that will be meaningful.

I am also voting against every Democrat (including Speaker Pelosi) who chose to sit rather than stand when the president called on Congress to ban late-term abortions.

My conscience doesn't allow me to skip the election because Trump does not live up to all my ideals. Nor does it allow me to cast a protest vote for another candidate who cannot possibly win.

Maybe that's what your conscience dictates, but not mine.
Brown tackled a thornier issue in his Feb. 14 column: "How should Christian conservatives respond to President Trump's statement that he would have no problem voting for a gay president?" But this ended up not being thorny at all -- in Brown's eyes, Trump's personal friendliness toward gays is outweighed by the anti-LGBT policies pushed under his adminstration:
Trump's policies have consistently pushed back against LGBT activism and for Christian conservative rights.

That's why last year, the HRC (the world's largest gay activist organization) labeled Trump the "worst president on LGBTQ issues ever."

[...]

To be clear, I stand against LGBT people being "attacked" or "targeted." But when the HRC uses that language, it often means this: "The Trump administration is pushing back against the radical extremism of queer activism." For that, I am glad.
Brown went further in his faux-sympathy tack, again cheering Trump's anti-LGBT polilcies while parenthetically adding: "Again, I have no joy in seeing those who identify as LGBT feel attacked. And I do not want them hurt. I simply believe that many of their goals are detrimental to the overall well-being of our society, which is why I oppose them."
Oh, knock it off. One of the acts under Trump that Brown is that, citing the HRC entry he quoted, "Less than two hours after Trump and his virulently anti-LGBTQ activist Vice President Mike Pence were sworn into office, all mentions of LGBTQ issues were removed from the official White House webpage." Acknowleding the existence of an entire group is "radical extremism"? And eliminating all mention of it is not an attack on that group?
Brown is overjoyed by the prospect of the Trump administration having a policy that Christians have and deserve more rights than non-Christians, undoubtedly helped along by "the nearly 200 conservative judges who have been appointed by Trump" Brown also gushed over.
Brown concluded: "That's one reason my vote for him in 2016 was justified. And that's why I believe my 2020 vote for him will be justified as well."
In short, there is no bottom, at least as long as Trump's policies hate the LGBT community as much as Brown does.
Posted by Terry K. at 12:42 AM EST