CNS Criticizes Fellow Right-Wing Outlet's Anti-Semitism, Hides That It Previously Promoted Its Interviews
Topic: CNSNews.com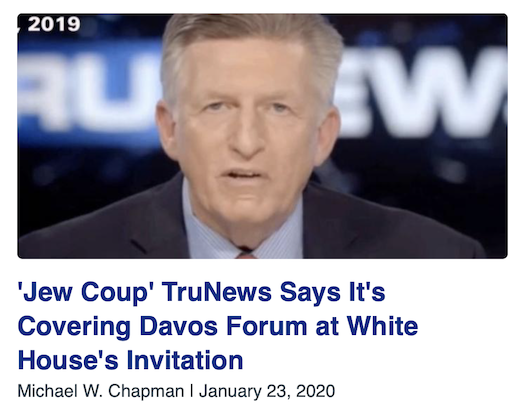 CNSNews.com does a lot of things wrong journalistically -- specifically, its extreme pro-Trump bias -- but it occasionally does the right thing, for which it deserves at least some credit. Managing editor Michael W. Chapman wrote in a Jan. 23 article:
The news outlet TruNews, whose host Rick Wiles describes Jews as "deceivers" who "plot" and "lie," and who have orchestrated a "Jew coup" against President Donald Trump, was invited to cover the World Economic Forum in Davos, Switzerland by the White House, according to Wiles.

"We just want to thank President Trump and the White House for extending the invitation to be here today and throughout the week," Wiles stated in a Jan. 21 report from Davos. (The World Economic Forum runs Jan. 21-24.)

In addition, CNN's Jake Tapper tweeted on Wednesday, "The White House Correspondents' Association (@WHCA), which does *NOT* make credentialing decisions, confirms to me that the White House credentialed the anti-Semitic TruNews. WHCA says it is raising this issue with the WH."
Chapman even added at the end that "CNSNews.com contacted the White House press office by telephone, Twitter, and email and asked if it had given press credentials to TruNews. The White House did not respond before this story was published."
Chapman, however, gets only partial credit here. Why? Because he has promoted interviews Wiles has conducted, since they share many of the same values, anti-Semitism aside:
Chapman didn't tell his readers that he has previously promoted Wiles' interviews.
Posted by Terry K. at 10:37 AM EST