CNS Presents Ridiculous Defenses of Trump With A Straight Face
Topic: CNSNews.com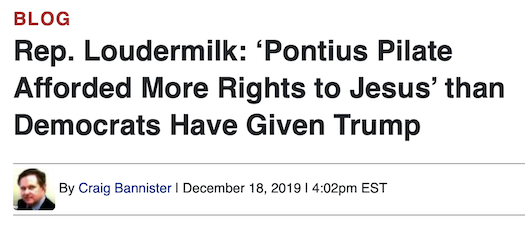 CNSNews.com is so in the tank for President Trump that it lets the most ludicrous defenses of him pass without editorial comment or even a simple fact-check. Craig Bannister reported in a Dec. 18 blog post:
While presiding over the "sham trial" of Jesus, even Pontius Pilate granted the accused more rights than House Democrats have granted President Donald Trump, Rep. Barry Loudermilk (R-Georgia) said Wednesday.

[...]

And, with Christmas approaching, Loudermilk said, Democrats should consider that they have denied President Trump something that even Pontius Pilate was willing to give Jesus - the opportunity to face his accuser:

"Before you take this historic vote today – one week before Christmas – I want you to keep this in mind:

"When Jesus was falsely accused of treason, Pontius Pilate gave Jesus the opportunity to face his accusers. During that sham trial, Pontius Pilate afforded more rights to Jesus, than the Democrats have afforded this president in this process."
You'd think that as the devout Christians the CNS crew claims to be, Loudermilk's claim would have raised some red flags about its accuracy, (not to mention find his likening of Trump to Jesus more than a little ludicrous). Instead, it was left to an actual fact-checker to report: "Biblical accounts cited to us by experts in law and religion say Jesus was questioned by the Roman governor, not given an opportunity by Pilate to face his accusers. Trump has yet to go on trial in the Senate. But before being impeached by the House, he was given the opportunity to present a defense."
On Jan. 20, Bannister again presented a ridiculous claim with a straight face:
Dr. Martin Luther King's vision was equality and unity – not a baseless impeachment designed to tear the country apart – Top White House aide KellyAnne Conway said Monday, when asked to comment on President Donald Trump's plans for the holiday honoring the late civil rights leader.

Conway said Trump shares Dr. King's vision for unity and equally, and that she believes Dr. King would not have supported putting the nation through an unfounded, divisive impeachment – especially, one where no crimes have been alleged:

"Well, I can tell you that the president is preparing for Davos and agrees with many of the things that Dr. Martin Luther King stood for and agreed with for many years, including unity and equality. And he's not the one trying to tear the country apart through an impeachment process and a lack of substance that really is very shameful at this point."

….

"When you see the articles of impeachment that came out, I don't think it was within Dr. King's vision to have Americans dragged through a process where the president is not going to be removed from office, is not being charged with bribery, extortion, high crimes or misdemeanors."
Again, it was left to an actual news outlet to add response and context:
Her comments were immediately ridiculed as one of the most bizarre attacks on the impeachment process to date.

Sherrilyn Ifill, president of the NAACP Legal Defense Fund, called the remark an "embarrassingly incompetent answer." Trump, she suggested, has in fact strayed far from King's legacy — by redefining the presidency and pushing it away from leadership.

[...]

Yet Trump, who was sued in the 1970s for housing discrimination against blacks, has not fared much better in office: He has been largely panned by black Americans, an overwhelming majority of whom say they think he is a racist and has made racism a larger problem in the United States.
Of course, defense of Trump comes ahead of reporting facts at CNS.
Posted by Terry K. at 1:02 AM EST