Compare and Contrast: CNS' Jones Shows Her Right-Wing Reporting Bias
Topic: CNSNews.com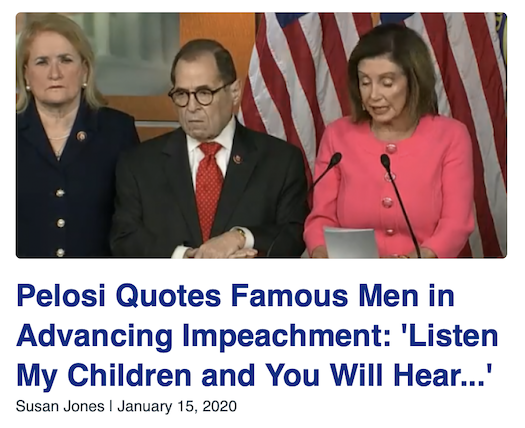 CNSNews.com reporter Susan Jones is filled with hate and bias toward those who don't share her right-wing ideology, and that shows through every time she reports on political figures. Let's compare and contrast, shall we?
A Jan. 13 article by Jones highlighted Nancy Pelosi's statement that no matter what happens in the Senate, President Trump is "impeached forever." Jones proceeded to read Pelosi's mind, declaring that after several paragraphs in which Pelosi "explained her delay" in sending the articles of impeachment to the Senate focusing on the need for witnesses in the Senate trial, then declared that "Pelosi thus indicated that she's been playing political games with the month-long delay. Jones didn't indicate how a need for witnesses equated to "political games."
Jones pushed a related point later in the article, stating that "Pelosi also repeated her assertion that by failing to subpoena witnesses -- witnesses the House didn't bother waiting for -- McConnell and Senate Republicans will be staging an unfair trial."
Jones cranked up the condesension in a Jan. 15 article in which she framed Pelosi's announcement of the impeachment managers around her quoting "famous men" in doing so:
House Speaker Nancy Pelosi, invoking Abraham Lincoln, Thomas Paine, and even the poet Henry Wadsworth Longfellow, announced on Wednesday that "this is a very important day for us."

She named seven impeachment managers -- all of them litigators, she noted -- including intelligence committee Chairman Adam Schiff (D-Calif.) and Judiciary Committee Jerrold Nadler (D-N.Y.). More on the seven managers in a moment.

At the top of her news conference, Pelosi aimed to explain why impeachment -- once so urgent, then not so urgent as she withheld the articles for almost a month -- is necessary and historic.

She emphasized the "importance of time," and she repeated something she said on Sunday, that Trump's impeachment "will last forever." (He's forever stained, in other words, regardless of what the Senate does.)
The last paragraph of her article was devoted to repeating a GOP talking point, that Pelosi was "pressuring the Republican-led Senate to call the witnesses and subpoena the documents that the House committees decided not to wait for."
By contrast, articles from Jones about Republican House Minority Leader Kevin McCarthy talking about impeachment have no such condescension or bias.
A Jan. 13 article uncritically repeated McCarthy's evidence-free claim that "Pelosi delayed the Senate trial to impede the presidential campaign of Sen. Bernie Sanders." Jones showed no skepticism about McCarthy's claim, nor did she demand substantion.
In an article the next day, Jones went further into stenography mode, repeating McCarthy's claim that "Pelosi gained "nothing" by withholding the articles for almost one month, after claiming such urgency to get them passed," failing to mention that McCarthy's complaint files against how Republicans have frequently complained that Democrats were moving too fast on impeachment.
Jones also promoted McCarthy's concern trolling that Joe Biden "make a pledge not to campaign when Bernie Sanders cannot" because he must attend the Senate impeachment trial, though she did include a response from Demmocratic Rep. Hakeem Jeffries that "We will not take political advice from Kevin McCarthy," albeit not until the 10th paragraph.
Posted by Terry K. at 8:42 AM EST