CNS Unemployment Coverage Distortion Watch
Topic: CNSNews.com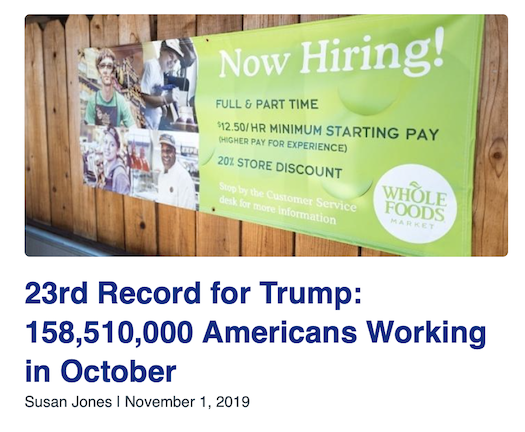 It was a decent month for employment numbers in Octrober, so it was pro-Trump rah-rah time again at CNSNews.com. Susan Jones wrote in the lead story:
Following September's blockbuster employment report, the Bureau of Labor Statistics on Friday said more records were set in October.

A record 158,510,000 Americans are now working, the 23rd such record since President Donald Trump took office.

The nation's labor force participation rate also set a Trump-era high of 63.3 percent. This number is explained in greater detail below, but the higher, the better. Payroll taxes from people who work help support programs for those who don't.

The economy added 128,000 jobs in October, higher than economists expected, given the General Motors strike that began on Sept. 15 and lasted six weeks.
Jones also touted how "the unemployment rate for black Americans, 5.4 percent in October, has never been this low." If Barack Obama were still president, Jones would be talking about how much higher it is than the white unemployment rate, which was 3.2 percent in October.
Craig Bannister served up the standard sidebar on Hispanic unemployment emphasizing the "record number" of employed Hispanics and downplaying the fact that the Hispanic unemployment rate actually went up in October.
Bannister also spun Nancy Pelosi's response to the October numbers, linking to Jones' article: "Despite record-high employment and a 4.1% unemployment rate, October's jobs report is proof of how Republicans' agenda is hurting the middle class, House Speaker Rep. Nancy Pelosi said Friday."
Managing editor Michael W. Chapman, meanwhile, devoted an article to taking a potshot at a liberal economist: "The U.S. economy today is doing pretty well, with record-high employment numbers and record-low unemployment numbers for blacks, among other positive indices. Yet back in November 2016 when Donald Trump was elected president, Pulitzer Prize-winning economist and New York Times columnist Paul Krugman predicted the U.S. was 'probably looking at a global recession, with no end in sight.'"
By contrast, CNS was silent about Lawrence Kudlow's history of botched economic predictions after Trump named him a White House economic adviser.
UPDATE: These CNS stories are being used synergistically throughout the MRC; a Nov. 3 post by Tim Graham whined that the network news didn't cover October's numbers, huffing that "The networks keep insisting unemployment data isn't 'real news.'"
Posted by Terry K. at 12:38 AM EST
Updated: Sunday, November 10, 2019 11:08 AM EST