What LGBT Stuff Is The MRC Freaking Out About Now?
Topic: Media Research Center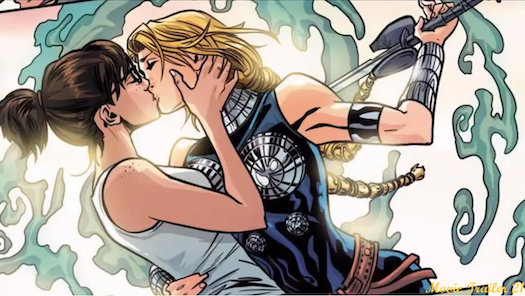 Jorge Plaza complained that the director of the "Twilight" films "has signed on to a lesbian Viking film called Heathen -- an adaptation of a Vault Comics series of the same name. The story is a radical twist on Marvel's Thor, rivaling Disney's upcoming female Thor film." Plaza made sure to include the requisite right-wing trigger words as well, including "woke," "intersectionality" and "social justice."
Annie Piper sneered in a post attacking a TV show that touched on LGBT issues:
It seemed as if our culture couldn't have gotten more confused about sexuality before LGBT became LGBTQIA+, but that notion has been proven wrong with one outrageous equality push after another. Fortunately, ABC's summer drama, Grand Hotel, tries to clear that all up for us in their latest episode.

[...]

Between the increasing standards of acceptance demanded by the LGBTQ community and the ever growing terminology that seems to just be several synonyms, I might just start needing to carry around a notebook for all of my potential interactions with liberals. We'll call it "A Guide to Political Correctness--2019 Edition." It'll probably be out of date tomorrow.
Alexa Moutevalis Coombs rejoiced over the cacnellation of gay-themed TV show "Will & Grace," disdaining its alleged "self-indulgent liberal lectures" and wasoffended that the show "seemed to love to make jokes about Christians and Republicans being gay."
Jorge Plaza conflated cross-dressing and transgenderism in yet another MRC rant about cartoons depicting characters that aren't heterosexual:
Cross-dressing has been a running gag in cartoons since phenakistoscopes. But in 2019, it's a super serious form of expression to promote "diversity and inclusion" in children's TV shows.

Netflix's Rocko's Modern Life: Static Cling -- a revival of a 1990s Nickelodeon hit -- will feature a story arc with a transgender character named Rachel Bighead, according to an exclusive Entertainment Weekly report. Rachel dons a pearl necklace, a colorful dress, makeup, and long hair held together by a blue headband. The character also has a comically deep voice.
Plaza huffed that while an earlier episode of the show was an coming-out allegory where "animators' politics had to be hidden in metaphors to avoid explicitly indoctrinating children," the new story "blatantly bashes kids over the head with gender ideology."
Gabriel Hays ranted that "Hollywood movie database IMDb.com has become the latest casualty in the trans war on reality, having been bullied by the LGBTQ community into refraining from posting trans people's birth names on their site without 'consent.' Apparently publishing trans movie industry workers' original names is just another arrow in the quiver of patriarchal oppression." Hays went on to call transgender folks "make-believe people" and blamed the "gay police" for all this hullabaloo.
Hays followed that with a meltdown over stories about same-sex penguins raising hatchlings, mocking "woke zookeepers" and asserting, "Score one for the queer flightless aquatic bird community, and for the gang at The New York Times!"
Indeed, Hays was having anti-gay meltdowns all over the place. Another post mocked "non-binary, LGBTQ fashion" -- "It's all the rage with the kids and you 'finger wagging, clueless' parents best get used to it" -- insisting this focus was simply to "stick it in more traditional readers' eyes" and that "tacky trends that have usually characterized weird subcultures have been anointed with a progressive purpose."
Sure, Gabe. This is all about you, who hate-reads stuff like this solely for the clicks you can generate from similarly anti-gay right-wingers.
Tim Graham and Brent Bozell had a "Gender Unicorn" freakout, whining about a handout in a single school that address issues that didn't involve heterosexuality. The two warned: "This will not stop until the nuclear family is destroyed. Or until parents stand up as one and declare a commitment to destroy this movement."
Hays returned to defend Dave Chapelle's transphobic jokes as him merely deciding to "refuse to kiss the ring of every insane progressive cause on the market," declaring that "It's more that the left has a 'basic misunderstanding' of humor, or in other words, liberals can't take a freaking joke." (The MRC has previously defended Chappelle's unfunny trans-bashing humor.)
Hays seems to have forgotten that he and his employer are regularly unable to take a freaking joke when those jokes target President Trump.
Posted by Terry K. at 10:17 AM EDT
Updated: Sunday, September 1, 2019 10:48 AM EDT