Terry Jeffrey Trump Deficit Blame Avoidance Watch
Topic: CNSNews.com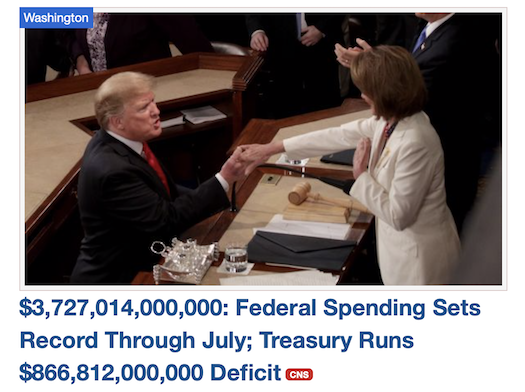 The latest episode in CNSNews.com editor in chief Terry Jeffrey's refusal to single out President Trump by name for his role in running up the federal deficits Jeffrey decries comes in an Aug. 12 article headlined "$3,727,014,000,000: Federal Spending Sets Record Through July; Treasury Runs $866,812,000,000 Deficit" (in his usual deviation from accepted AP journalistic style by putting full numbers in the headline instead of the shorthand of saying "billion" or "trillion"):
The federal government spent a record $3,727,014,000,000 in the first ten months of fiscal 2019 (October through July), according to the Monthly Treasury Statement released today.

While spending that record $3,727,014,000,000, the government ran a deficit of $866,812,000,000.
As usual, the words "Trump" and "Republican" never appear in Jeffrey's article, even though they control the executive branch and half of Congress. It also has the usual implicit blame-spreading through the use of photo of Trump with Nancy Pelosi, suggesting equal blame even though Pelosi controls only one-half of one branch of government. At least this time Jeffrey found a different Trump-Pelosi stock photo to use, after the previous three months of using stock photos taken from the same Trump-Pelosi event.
It's so bad for Jeffrey, in fact, that he's been forced to admit that earlier high deficit spending involved a recession. In noting that the last time federal spending was this high in the first 10 months of a fiscal year was 2009, Jeffrey added: "Federal spending was impacted in fiscal 2009 by the recession that was ongoing when that fiscal year began. At the beginning of fiscal 2009, President George W. Bush signed the Troubled Asset Relief Program to bailout failing banks. Later that fiscal year, President Barack Obama signed the American Recovery and Reinvestment Act, aimed at stimulating the economy."
Still, Jeffrey can't quite admit that Trump doesn't have a recession and economic stimulation to blame for all the deficit spending.
Posted by Terry K. at 2:32 PM EDT