MRC Does Damage Control For Border Patrol
Topic: Media Research Center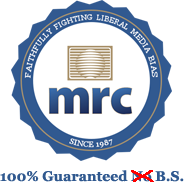 After ProPublica broke a story about a secret Facebook group for former Border Patrol agents filled with racist and sexist comments and jokes about dead migrants, the Media Research Center did something that had nothing whatsoever to do with "media research" -- it rushed to the Border Patrol's defense by throwing out what might be generously described as alternative facts.
In a July 5 post, Corinne Weaver asserted that "Facebook's past policies may have implicated innocent users in some controversial activities" -- even though she admitted that ProPublica double-checked names in the group against that of known Border Patrol agents. She continued:
A Facebook spokesperson confirmed that before December 2018, users could be added to a group without agreeing to be added. They would receive an invitation to the group, but the invite automatically added the user. Now, the new policy makes users "accept invitations" before they are added to a group.

The border patrol group is 3 years old, according to ProPublica. For two years, some members of the group could have been added without realizing it. Only brand-new group members are guaranteed to have joined voluntarily.

In addition, many members in the group might have missed some or all of those posts. If a member of a group does not interact with a group for a certain period of time, the latest posts float down to the bottom of the newsfeed. So very active members of the group would have been able to see most of the posts, while less active members would not have seen as much.

Just because someone was a member of a group does not mean they were active members who commented, posted, or even saw all of the content.
Weaver is simply making excuses. The facts remain that this Facebook group does exist, and these agents did belong to it -- even Border Patrol chief Carla Provost was forced to admit she belonged to it (though she denied being an active member).
It's highly unlikely that Weaver or anyone else at the MRC would give the same benefit of the doubt to anyone who belonged to a Facebook group that published offensive content that could be considered liberal-leaning -- recall its incessant whining about the "Journolist" listserv because non-conservative journalists were involved (and its complete silence about Groundswell, the secret listserv for conservative journalists and activists, not even to discuss whether any MRC employee took part in it).
Weaver's defense of the Border Patrol is nothing but political damage control that's little more than just another MRC double standard.
Posted by Terry K. at 2:23 PM EDT