WND Falsely Defends Anti-Muslim Activist
Topic: WorldNetDaily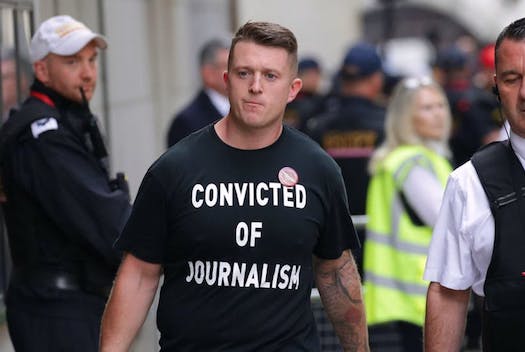 An anonymously written July 5 WorldNetDaily article states:
Two British judges have delivered a second slapdown to activist and Muslim critic Tommy Robinson, finding him guilty of contempt for posting a video taken outside a court during the trial of Muslims who eventually were convicted of gang rape.

Robinson had been sentenced to 13 months for contempt when he posted an interview with individuals outside the court in 2018. He appealed and was released for two months, but prosecutors re-filed charges.

Reuters reported Friday two judges found Robinson, the co-founder of the English Defense League, in contempt for making the video recordings outside a courthouse in Leeds. The video revealed the identities of some of the defendants who were charged with grooming and sexually exploiting young girls.

The case ended in the convictions of more than a dozen Muslims for sexual offenses against girls in what has become known as the Huddersfield grooming gang case.

The grooming and sex abuse happened between 2004 and 2011, and the 20 defendants were convicted in three different trials in 2018.

Critics claimed the court's censorship rules amounted to a "cover-up" of the fact that the perpetrators were Muslims.

Robinson was arrested, tried, convicted and sentenced to 13 months all within three hours. His appeal, however, was successful, and he was released after two months. The government's chief legal adviser, Attorney General Geoffrey Cox, then restarted proceedings against him.
WND is leaving out a lot of information here, creating the false impression that Robinson was convicted for acting like a journalist -- which, of course, is Robinson's intent.
As we've noted, Robinson -- whose real name is Stephen Yaxley-Lennon -- is much more than a "Muslim critic"; his English Defense Leagueis a far-right group with a history of provoking anti-Muslim violence.
WND waited until the final paragraph to vaguely acknowledge one key point: "The United Kingdom's rules differ from those in the United States. In the U.K., courts can suppress information about trials, and they can prosecute anyone not affiliated with the court or any party in the case for revealing information the judges want withheld." That's the central fact of the charges against Robinson.
WND never named any of the "critics" who claimed that the UK's rules on trial coverage "amounted to a 'cover-up' of the fact that the perpetrators were Muslims" -- perhaps because the claim is bogus. As Leon Wolf and Aaron Colen wrote in a commentary for the conservative website The Blaze, the crimes in question "had been public knowledge for more than a year — including extensive reporting by the BBC, which is literally funded by the British government," adding: "If the British government was really trying to cover up these crimes, as Robinson has claimed to a credulous United States audience, then they might have made a smarter play than having their government-funded press organ repeatedly cover them."
Robinson's video jeopardized the legal proceedings against the men because jurors could have seen it, resulting in a mistrial, Wolf and Colen wrote. They concluded:
Robinson is not being jailed for the crime of journalism, as he claims.

He is being jailed because he almost allowed men who committed heinous crimes to go free.

Furthermore, he is no hero, as he claims. He is a repeat criminal and a repeat fraud whose main interest throughout the course of his career has been his own self-aggrandizement by feeding off the fear and ignorance of others.
That's a truth WND will never tell its readers about Robinson.
Posted by Terry K. at 9:11 AM EDT