CNS Slightly Deviates From Pro-Trump Agenda, Attacks Trump-Nominated Judicial Candidate
Topic: CNSNews.com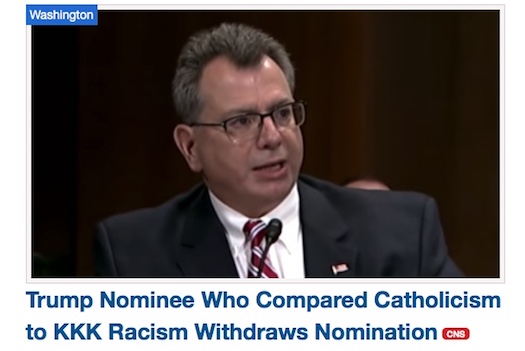 CNSNews.com is so dedicated to pro-Trump stenography that it's news when it even implicitly criticizes President Trump -- for instance, managing editor Michael W. Chapman has a sad whenever Trump fails to hate the LGBT community as much has he does. This happened again when CNS turned on a lawyer nominated by Trump for a federal judgeship for a statement it deemed to be anti-Catholic (remember, Chapman and other CNS staffers consider themselves to be more Catholic than the pope).
An anonymously written May 31 article complained:
President Donald Trump has nominated to a federal judgeship a lawyer who argued in court against a Catholic farmer who would not allow same-sex weddings to take place on his farm because same-sex marriage violates his Catholic beliefs.

Michael S. Bogren, the lawyer in question, represented the City of East Lansing, Mich., against the farmer, Steve Tennes.

In a document presented in court, Bogren equated a Catholic refusing to allow a same-sex wedding on his farm to a KKK member refusing to allow an interracial wedding.
The article went on to complain that "Bogren finally said that he did stand by his comparison," even though it also included a transcript of questioning from a Republican senator in which Bogren pointed out that "I represent clients, not causes. This is not ideological."
But CNS decided otherwise, and using its new crop of summer interns, sent them out to pester three Republican senators and a Democratic one on whether they thought Bogren should withdraw his nomination because he "equated a Catholic family declining to host same-sex weddings on their farm to a KKK member engaging in racial discrimination."
CNS ultimately got its wish. Chapman happily wrote on June 11 that Bogren "withdrew his nomination to be a judge for the Western District of Michigan today." Chapman included a screenshot of the announcement made by Bogren's cousin, Margot Cleveland, which noted that the withdrawal was "a Pyrrhic victory at best." Chapman was silent on that, instead rehashing right-wing criticism of Bogren.
In fact, Cleveland pointed out that Bogren "made clear" that "his words were not his personal views, but his legal advocacy," adding:
I have seen people I respect calling Mike an anti-Catholic bigot. And that is shameful. You might disagree with his decision to represent a client, or the arguments made, but unjustly slandering a good man, is something we should never do in the defense of religious liberty. Judgeship or none, is of no matter; but reputation is. As I was asking my son to pray for Mike this weekend, and he asked why, I simplified the situation, and in his innocence he asked, "Why doesn't he tell people he likes Catholics?" Life isn't that simple-you can't repair a man's reputation tarnished by soundbites with a simple statement of the truth.
CNS couldn't be bothered to report the full story, so played a lead role in that slander.
UPDATE: CNS also followed up in a June 13 article by Mark Jennings, which misleadingly reduced the debate to claiming that "Bogren had compared Catholicism to KKK racism." Jennings didn't explain how active discrimination against a same-sex couple is a core tenet of Catholicism.
Posted by Terry K. at 1:25 AM EDT
Updated: Friday, June 21, 2019 2:01 AM EDT