CNS Unemployment Coverage Distortion Watch
Topic: CNSNews.com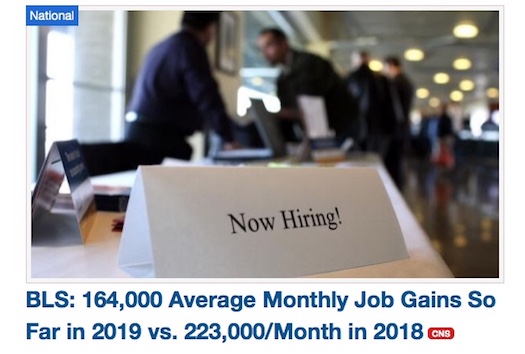 May was a month that was bad enough for employment that even CNS couldn't put a pro-Trump spin on it. Susan Jones' lead story was relatively dire:
Total nonfarm payroll employment edged up by 75,000 in May, below expectations, and the unemployment rate remained at its 50-year low of 3.6 percent, the Bureau of Labor Statistics reported on Friday.

The change in total nonfarm payroll employment for March was revised down from +189,000 to +153,000, and the change for April was revised down from +263,000 to +224,000. With those revisions, employment gains in March and April combined were 75,000 less than previously reported.
Jones did, however, work in some spin in claiming that "The number of employed Americans, which has set 18 records so far in the Trump presidency, increased by 113,000 month-to-month, totaling 156,758,000 in May.
It was left to others to cherry-pick numbers to spin. Editor in chief Terry Jeffrey touted how "Manufacturing jobs in the United States increased by 3,000 from April to May ... the largest number of manufacturing jobs the U.S. economy has sustained since December 2008," but in another sidebar he complained that the number of federal employees had risen to "the highest level since President Barack Obama left office."
Craig Bannister, meanwhile, was left to promote how "The national seasonally-adjusted unemployment rate for Hispanics and Latinos in the U.S. labor force held steady at its record low of 4.2% in May."
Posted by Terry K. at 12:56 AM EDT