MRC Unhappy With Possible Comeback of Brian Williams
Topic: Media Research Center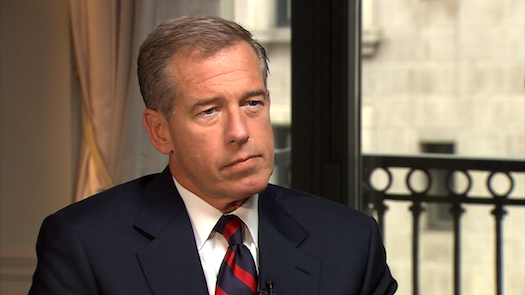 The Media Research Center -- where name-calling is more important than "media research" -- loves to tag MSNBC's Brian Williams as "Lyin' Brian" for exaggerations he told about his work as a journalist that cost him his job as NBC Nightly News anchor. But that was four years ago, and the MRC is still mad that Williams is still around, did his penance, and may be making a comeback.
An April 18 post by Scott Whitlock is typical MRC Williams-bashing couched in whataboutism: "Disgraced former NBC anchor Brian Williams on Thursday morning compared the Attorney General to a former Iraqi propaganda minister. Williams, who falsely claimed he was shot down over Iraq in 2003, slimed Bill Barr as just like Mohammed Saeed al-Sahhaf, better known as Baghdad Bob. " Whitlock also sneered: "Again, just to be clear, Brian Williams is calling out someone else for falsehoods and questionable character."
On April 24, Tim Graham whined about a report that Williams might be making a "big comeback." First, he tried to denigrate Williams' ratings victory on MSNBC over CNN and Fox News: "he anchored live Mueller Report coverage with Nicolle Wallace and beat CNN (as if that's much of an achievement), but not Fox. The disgraced NBC anchor wins his 11 pm time slot, but that might be in part because Fox News viewers have retired for the evening."
Graham then huffed: "This only reminds people who don't love NBC/MSNBC that it's pretty funny if they would demand the fullest possible disclosure of the Mueller Report, since NBC never released any shred of a report of its investigation into the Williams fabrications....and never released any shred of a report on Lauer's sexual predations, either. Those probes 'died in darkness.'"
You mean like those MRC probes over why Brent Bozell spent years taking sole credit for columns that Graham ghost-wrote (until shamed into sharing the byline)?
Nicholas Fondacaro joined the name-calling bandwagon in a May 1 post, grousing that "serial liar Brian Williams took to MSNBC Live and was infatuated with the radical California Senator Kamala Harris (D) and how she had 'drew blood' from" Aggorney General William Barr. Fondacaro seems to have forgotten that his boss was a serial liar twice a week by putting his name on a column he didn't write.
The next day, Kyle Drennen got mad that MSNBC interrupted its live coverage of Barr's Senate testimony: "The one thing all those moments had in common was that Republican lawmakers were the ones talking when anchor Brian Williams chose to cut them off to 'correct the record.'" In a separate post on the subject, Drennen ranted: "The unmitigated gall for Williams, who notoriously lied about his experience reporting on the Iraq war, to pretend to be the arbiter of anyone else's credibility is truly amazing."

Graham returned on May 14 to express horror that Williams really is making a comeback: "NBC surprised TV writers on Monday by putting disgraced NBC anchor Brian Williams into their 'upfront' event for advertisers to stand with his successor Lester Holt, as well as Chuck Todd, Savannah Guthrie, Rachel Maddow, and others." Meanwhile, unlike Williams, Bozell never issued a public apology -- let alone face any consequences we're aware of -- for falsely presenting Graham's work as his own.
Posted by Terry K. at 10:20 PM EDT
Updated: Monday, May 27, 2019 10:53 PM EDT