More White Nationalism Links At WND
Topic: WorldNetDaily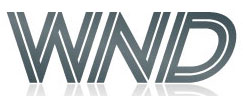 We documented the other day how a BuzzFeed News profile on apparent former alt-right white nationalist Katie McHugh exposed that the Media Research Center hired an activist with the racist, misogynist Youth for Western Civilization, Tim Dionisopoulos, to run its social media accounts for four years. It turns out there's a link here to WorldNetDaily as well.
The article states that McHugh -- while still an alt-right white nationalist -- worked for WND for a few months in late 2017 but, according to her WND supervisor, "let go for performance issues." This, by the way, was a few months after she was fired from Breitbart for a string of racially charged tweets culminating in one stating, "There would be no deadly terror attacks in the U.K. if Muslims didn't live there." Clearly, the Muslim-haters at WND had no problem with that tweet.
But there's another WND-white nationalist link here as well. McHugh's boyfriend for a few years in the mid-2010s was Kevin DeAnna, founder of Youth for Western Civilization. In February 2012, DeAnna became the "marketing coordinator" for WND.
WND was actually proud of this connection for a while. A May 2012 article touted how DeAnna, along with three other WND writers, were placed on a Southern Poverty Law Center list of "the 30 most dangerous activists in the country." The article noted DeAnna was founder of YWC but did not describe the nature of the organization. DeAnna also wrote several articles for WND before his apparent departure in October 2012; we noted at the time that DeAnna defended Russian leader Vladimir Putin's persecution of the punk band Pussy Riot.
DeAnna also wrote an article promoting Bilderberg conspiracy theories; as it so happens, Dionisopoulos also wrote an article for WND around the same time featuring "citizen journalists" protesting outside of a Bilderberg Group gathering in Virginia (which we also noted at the time).
This is far from the first time WND has been caught dallying with white nationalism and barely disguised racism -- from Colin Flaherty to Paul Nehlen to Scott Greer, that thread has been running through WND for years.
Posted by Terry K. at 3:30 PM EDT