WND Advances Conspiracy Theory That Notre Dame Fire Was Terrorist Act
Topic: WorldNetDaily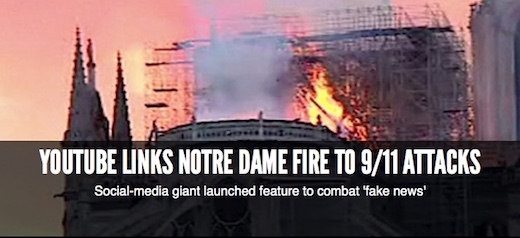 After the fire at Notre Dame Cathedral in Paris, WorldNetDaily was happy to mock YouTube for an "algorithm designed to combat fake news and conspiracy theories [that] equated the Paris catastrophe with the 9/11 New York City terror attacks," adding that "there is no indication that the devastating fire at the iconic Notre Dame is related to terrorism."
But even though there remains no indication of a terrorism link to the Notre Dame fire, WND has embraced the idea that there might be, likely committed by Muslims.
An April 15 article regurgitated a right-wing blogger who counted "the names of Facebook users who responded to a video of the fire with a laughing emoji. The names included Yusuf Mohammedzai, Mohamed Hiadi, Mohamed Bensalem and Abdelhakim Noui Oua."
An anonymously written April 16 WND article stepped in that direction by highlighting "the surge of attacks on Christian symbols in Europe." While it did concede that "French authorities believe the blaze that destroyed the roof of the 850-year-old Notre Dame Cathedral was accidental," it also highlighted that "ISIS followers online called the Notre Dame fire "retribution and punishment" from Allah.
Another April 16 article complained, as the Media Research Center did, that Fox News anchor Shepard Smith shut down a guest who tried to link the Notre Dame fire to other attacks on European churches, then rehashed Rush L:imbaugh's conspiracy theory that it was "head-in-the-sand denial" not to raise the specter of a link.
WND columnist Barbara Simpson went fully into conspiracy territory in her April 21 column:
The big question then, is the same big question now: How did the fire start? While there has been a wild attempt by worldwide media to show the pictures of the inferno and the damage caused, there is a concerted effort to avoid making any conclusions as to HOW the fire started – or, perhaps, WHO started it.

It's not too far-fetched to say that media and authorities are in the midst of a total avoidance of possibly accusing any person(s) or groups as being responsible for the conflagration.

The truth is, a building the size and age and cared-for as Notre Dame does not "just" burn down – not especially with the heat, speed and totality of the flames.

The allegation is the wood roof was just so flammable that even a simple spark would set it all off. Nonsense. The 850-year-old roof was built with whole trees, many more than a 100 years old when they were cut. It would take more than a spark to set them ablaze with the speed and destructiveness of that fire.

What is left of the structure is so fragile at this point, that NO authorities have been allowed inside for inspections … yet there are media reports that a "short circuit" set off the blaze. The contractors who were doing the remodeling say that is not possible, yet the media persist and officials support them even though NO investigators have done any inspections.

Speaking of the media persisting, they're also avoiding – with every bit of their ability – to even consider that perhaps anti-Catholic feeling was responsible for the fire.

[...]

The big "no-no" is to even suggest there might be Muslim involvement in the Notre Dame fire. This, despite reports in Islamic media, that Muslims are cheering the destruction.
She was followed by Oliver Melnick, who basically argued that it would be irresponsible not to speculate:
We might never really know the source of the Notre Dame fire, but the situation is such in France and much of Western Europe that at least it makes it possible for one to speculate and leave the door open for a terrorist attack. The soil is fertile to allow more hatred to grow and choke Christianity and Western civilization. As a matter of fact, ISIS, which didn't claim responsibility for the fire, threatened to start another one to finish the job. They were not involved, but they were quick to rejoice and post photos of the burning structure on social media, with the caption: "It's time to say goodbye to your oratory polytheism."

Notre Dame's fire didn't have to be a terrorist attack to draw the attention of those who promote Christianity and Western values. There is a track record of the destruction of Christianity in Europe that has existed for a while now. Lovers of freedom and democracy ought to be really concerned.
And that's how WND keeps its reputation of being conspiracy-mongers.
Posted by Terry K. at 3:49 PM EDT