CNS Labors to Downplay Roger Stone Indictment, Touts Trump's CNN Conspiracy Theory
Topic: CNSNews.com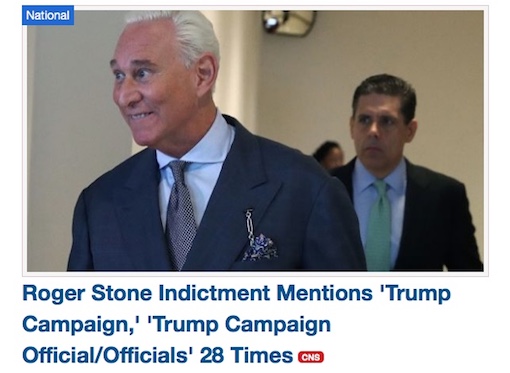 It's telling of the right-wing bias of CNSNews.com that its first reaction to the arrest of longtime Trump friend Roger Stone was to distance him from President Trump and allegations of Russian collusion and to spread a conspiracy theory about how Stone's arrest was covered by CNN.
Susan Jones kicked off the distancing in her initial story on the arrest:
The charges against Stone do not involve Russian collusion; they involve his alleged obstruction of, and false statements to, the congressional and FBI investigations into Trump-Russia coordination.

However, in what may be a preview of future legal cases, the indictment mentions the "Trump campaign" or "Trump campaign official/officials" 28 times, mostly in connection with Stone's attempt to get information from Wikileaks that would be damaging to the Clinton campaign.
Jones used the last paragraph of her article to play some partisan whataboutism demonstrating that she's not a fair and objec ctive reporter:
It should be noted that while Stone allegedly was seeking damaging information about the Clinton campaign from Wikileaks, the Clinton campaign and the Democrat National Committee were paying Fusion GPS, through a law firm, to gather information damaging to the Trump campaign. The so-called Steele dossier contained salacious and unverified information gathered by Christopher Steele from Russian sources; and eventually the FBI used the dossier to obtain a FISA warrant to spy on a Trump campaign volunteer.
Jones didn't mention that nothing in that paragraph was a crime, unlike Stone's dealkings with Wikileaks and lies under oath.
Jones followed up later in the morning by uncriticallly repeating what White House press secretary Sarah Huckabee Sanders had to say:
"I can tell you the specific charges brought against Mr. Stone don't have anything to do with the president," White House spokewoman Sarah Huckabee Sanders told CNN's "New Day" on Friday morning, shortly after longtime Trump associate Roger Stone was arrested at his Florida home on charges of obstruction, making false statements and witness tampering.
Asked for her reaction, Sanders said, "Real simple, this has nothing to do with the president and certainly nothing to do with the White House. This is something that has to do solely with that individual, and not something that affects us in this building."
By midday on Jan. 25, Jones was doing her best to promote Trump's conspiracy theory about CNN's presence at Stone's house at the time he was arrested:
In a mid-morning response to the indictment of his friend and former campaign adviser Roger Stone, President Trump tweeted: "Greatest Witch Hunt in the History of our Country! NO COLLUSION! Border Coyotes, Drug Dealers and Human Traffickers are treated better. Who alerted CNN to be there?"

[...]

In an early morning tweet, CNN's "New Day" explained how a TV crew just happened to be in Stone's neighborhood before dawn: "CNN's @davidgshortell was on the ground when Roger Stone was arrested in Ft. Lauderdale, Fla., this morning. He says he was monitoring the situation because of 'unusual grand jury activity in Washington D.C. yesterday.'"

Back to Trump's question: "Who Alerted CNN to Be There?"

Attempts to reach the FBI press office during the shutdown were unsuccessful.

But some suspect that Mueller's office or someone in the FBI or even the grand jury tipped off CNN, a liberal media outlet that Trump has blasted as "fake news."

Journalist Greta van Susteren tweeted: "CNN cameras were at the raid of Roger Stone...so FBI obviously tipped off CNN...even if you don't like Stone, it is curious why Mueller's office tipped off CNN instead of trying to quietly arrest Stone; quiet arrests are more likely to be safe to the FBI and the person arrested."
Jones spent one paragraph on how CNN pointed out it had been alerted to a possible Stone arrest because of "unusual grand jury activity," and nine paragraphs of random conservatives falsely speculating that CNN was somehow tipped off by special counsel Robert Mueller himself.
Promoting presidential conspiracy theories is no way to present yourself as a legitimate "news" organization.
Posted by Terry K. at 4:27 PM EST