CNS Flip-Flops With Trump, Now Joins Him In Blaming Shutdown on Dems
Topic: CNSNews.com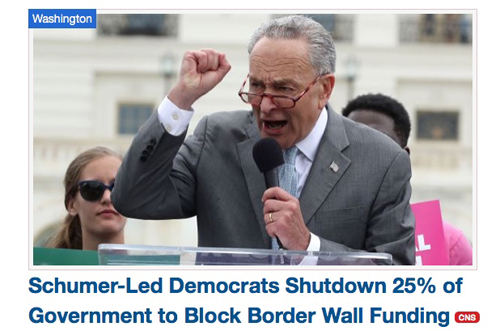 Last week, CNSNews.com had to reframe its government shutdown narrative away from the usual blame-the-Democrats storyline after President Trump announced he would accept blame for it. Now that Trump has flip-flopped to blame Democrats, CNS has flip-flopped as well.
Melanie Arter was in full stenography mode as she wrote in a Dec. 21 article: "As the Senate considers funding legislation that includes money for border security, President Donald Trump said Friday that if Democrats don't vote to fund a border wall, it will be considered a Democrat shutdown." Arter failed to mention that Trump said just a few days earlier that he would accept responsibility for a shutdown.
Still in stenography mode, Arter also wrote:
The president said former President Ronald Reagan tried unsuccessfully to get funding for a border wall years ago.

"Ronald Reagan tried many years ago. Got a note from a member of his family. Many years ago tried to get a wall, and he fought for a long time during his entire term. He was never able to get a wall, and I consider him to be a great president. He knew what he was doing," Trump said.
But as an actual news organization pointed out, that's not true at all. Reagan is on record as saying, "Rather than talking about putting up a fence, why don't we work out some recognition of our mutual problems, make it possible for them to come here legally with a work permit. And then while they're working and earning here, they pay taxes here. And when they want to go back they can go back."
Because of Arter's refusal to fact-check the president, CNS has once again published fake news.
A Dec,. 21 article by Susan Jones complained in its headline that "Schumer Cries, 'Trump Shutdown!'" -- even though that's what Trump himself was basically saying.
After the government did shut down, an anonymously written Dec. 22 CNS article knew where to assign blame per Trump's instructions, made clear with the headline "Schumer-Led Democrats Shutdown [sic] 25% of Government to Block Border Wall Funding." The article uncritically quoted Trump saying we should "call it a Democrat shutdown" -- again failing to mention that Trump was saying the opposite just a few days earlier -- and declare: "Senate Democrats are able to block the wall—and shutdown the as-yet-unfunded part of the federal government—because there are only 51 Republicans in the Senate. In order to invoke cloture and end debate on a piece of legislation, the Senate needs 60 votes out of its 100 members rather than a simple majority."
Even the alarmist headline take on "25% of government" being shut down is a flip-flop as well; CNS was previously downplaying any shutdown as minimal when Trump was willing to accept blame.
How will CNS continue to report shutdown developments? However the Trump White House wants it to.
Posted by Terry K. at 2:37 PM EST