CNS' Marching Orders On Catholic Sex Abuse: Blame The Gays!
Topic: CNSNews.com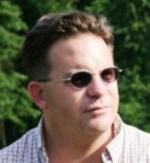 We've detailed how CNSNews.com refused to report for three days on a grand jury report detailing sexual abuse by Catholic clergy in Pennsylvania -- and that its first mention was a column by right-wing Catholic activist Bill Donohue of the Catholic League dismissing the report and blaming it all the abuse on gays. That has been the narrative CNS has mostly stuck with since.
CNS managing editor Michael W. Chapman used an Aug. 30 article to tout a bishop "prais[ing] the integrity of Vatican whistleblower Archbishop Carlo Vigano -- who has called for the resignation of Pope Francis and other bishops for allegedly covering up Archbishop Theodore McCarrick's reported homosexual abuse of a young boy and seminarians," going on to repeat other conservative Catholic clerics supporting Vigano's accusations. That was followed the next day with Chapman quoting more right-wing Catholic clerics to play up the gay angle:
Commenting on the recent revelations of sexual abuse in the Catholic Church, specifically those of predator Archbishop Theodore McCarrick and the cases detailed in the Pennsylvania Grand Jury Report, several bishops and lay leaders have blamed a "homosexual subculture" in the hierachy of the Church and called for the removal of the priests, bishops, and cardinals involved in that subculture.

Bishop Robert Morlino, head of the diocese of Madison, Wisc., in an Aug. 18 letter, stressed that the Church must stop excusing sin "in the name of a mistaken notion of mercy" and must express more "hatred" toward sin. "What the Church needs now is more hatred!" he said. "It is an act of love to hate sin and to call others to turn away from sin."

"There must be no room left, no refuge for sin — either within our own lives, or within the lives of our communities," said the bishop. "To be a refuge for sinners (which we should be), the Church must be a place where sinners can turn to be reconciled. In this I speak of all sin. But to be clear, in the specific situations at hand, we are talking about deviant sexual — almost exclusively homosexual — acts by clerics."
Chapman went on to repeat Donohue's deliberate misreading of the John Jay report on sexual abuse in the Catholic Church that because most victims were post-pubescent males "homosexuality -- not heterosexuality or pedophilia -- was in play." In fact, as we've reported, the authors of the John Jay report specifically stated that no connection was found between homosexual identity and an increased likelihood of sexual abuseand that one does not have to have a homosexual identity to commit homosexual acts.
Chapman also touted one anti-gay Catholic activist who called for a "complete and thorough removal of all homosexual clergymen from the Church."
An anonymously written Aug. 31 piece took took a bizarre shot at McCarrick, complaining that he "gave a speech at the National Press Club in Washington, D.C., on June 8, 2001, when he was the archbishop of Washington, in which he noted the 'sense of humanity' found in 'all the holy books,' including 'the Koran.'" The anonymous writer (who we're guessing is Chapman) did not dispute McCarrick's claim, nor did he/she explain what it is relevant to anything that's happening now.
Chapman also reported on a Catholic laymen's group withholding a donation to the church over the sexual abuse scandal. And while Chapman couldn't be bothered to report on the Pennsylvania abuse report until Donohue told him how to frame it, he quickly jumped on a appropriately lurid (for his agenda, anyway) report about "two priests performing oral sex in a parked car."
Chapman went into full lecture mode in a Sept. 10 article, declaring "Contrary to the spin by the liberal media, the overwhelming majority of sexual abusers in the Catholic Church are homosexual priests, said Catholic Bishop Marian Eleganti in a recent statement." But Chapman never quotes Eleganti, a bishop in Swizerland, referencing the "liberal media" -- or even referencing the media at all. Nevertheless, Chapman concluded his post by huffing: "That the homosexual subculture in the Catholic Church is the fundamental source of the abuse problems is well documented. Numerous bishops and lay person have commented on this fact but it is a politically incorrect phenomenon that the leftist media and the homosexuals in the Church do not want to discuss."
CNS also gave more space to Donohue in full deflection mode, int he form of a Sept. 12 open letter to state attorneys general thinking of looking into Catholic Church abuses, demanding that "If you want to pursue molesters, you should begin by launching a grand jury probe of the public schools." Of course, Donohue can't point to any systematic, decades-long cover-up of abuse in public schools of the kind that existed in the Catholic Church.
Meanwhile, the Catholics at CNS have no problem exploiting their religion to make political attacks. An anonymously written Sept. 17 article groused that House Democratic Leader Nancy Pelosi said that "she is a 'practicing Catholic' and that Catholics understand the church to be 'the body of Christ.'" After sneering that Pelosi "(contrary to Catholic teaching) supports abortion on demand and same-sex marriage," the anonymous writer effectively concedes that Pelosi got it right by quoting directly from the Catholic Catechism stating that "The Church is the Body of Christ." Not that CNS would ever forthrightly admit that Pelosi is right on a key matter of Catholic faith.
Posted by Terry K. at 1:55 AM EDT