WND's Crowdfunding for Movie of WND-Published Book Remains A Failure
Topic: WorldNetDaily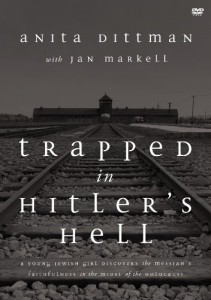 More than a year ago, WorldNetDaily started a crowdfunding campaign to raise $120,000 to finance pre-production on a film -- not actual production, mind you; this is in part for materials to lure someone to finance production -- based on Anita Dittman's WND-published Nazi-era memoir "Trapped in Hitler's Hell." That included a couple of promotional misfires, like encouraging WND readers to give up their lattes from Starbucks to donate (though the typical WND reader is likely not a Starbucks customer) and stealing another's glory by insisting the film would be just like last year's movie "Dunkirk" (but without Christoper Nolan and the $100 million budget).
Well, WND is still at it. A WND article last month takes a slightly different tack by likening its would-be film to "Unbroken," the 2014 film that told the story of Louie Zemperini's survival in World War II concentration camps, arguing that making films about heroic figures "can sometimes take decades." In doing so, WND basically cribbed from, if not outright plagiarized, the Wikipedia page on "Unbroken.".
Wikipedia: "Universal Pictures purchased the rights to the book in January 2011, having already acquired the film rights to Zamperini's life story towards the end of the 1950s."
WND: "Universal Pictures bought the book rights in January 2011 to augment the film rights to Zamperini's life story, which it had already acquired at the end of the 1950s."
Wikipedia: "The film received some criticism for omitting Zamperini's fight against alcoholism and PTSD, as well as his Billy Graham-inspired religious conversion."
WND: "What you didn't see was Zamperini's fight against alcoholism and PTSD, and most significantly his conversion to Christ after attending Billy Graham evangelistic crusade."
The point of invoking "Unbroken" is for WND to claim that "The team behind 'TRAPPED' does not want God's work in Anita's life ignored or set aside as was done for 'Unbroken.' That's why it wants 'TRAPPED' to remain an 'independently' financed film."
Note the scare quotes around "independently," meaning that it knows nothing of the sort will happen. Why else would it feel the need to spend $120,000 to attract someone to fund the actual film?
The article went on to tout how the film is allegedly "well advanced in its successful script development phase" and howDittman an Jan Markell, who co-wrote the book WND is basing the movie on, are among the film's "biggest supporters" and have "not only provided moral support and prayers but have brought early funding for the movie, helping to finance its script development." It also notes George Escobar, vice president of WND Films, claiming that "All the critical issues Anita faced in the 1930s and 40s are coming back," among them being "Fake news being perpetrated like Nazi propaganda, undermining our freedoms."
Unmentioned, of course, is that Dittman has spread her own malicious fake news in likening President Obama to Hitler (a distinction she strangely did not apply to Trump). Or WND's own history of perpetrating fake news.
In the middle somewhere was the admission of failutre: "a GoFundMe campaign for 'TRAPPED' has raised just over $16,000 out of the $120,000 required for film funding expenses that will be used to raise the millions it will cost to make the movie."
That's right -- more than a year of fundraising got the campaign only one-eighth to its goal. And in the three weeks since this article first appeared, it didn't do much better -- the total as of this writing stands at a mere $16,810, raising just $210 in those three weeks.
After begging readers to keep WND alive and finance its promulgation of Seth Rich conspiracy theories -- which after 15 months hasn't even broken the $5,000 mark -- it seems that WND's target audience is suffering from fundraising fatigue. WND's pet project may not survive.
Posted by Terry K. at 3:48 PM EDT