CNS Editor Still Playing the Whataboutism Card To Protect Trump
Topic: CNSNews.com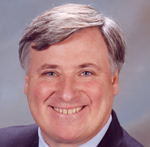 After President Trump's disastrous post-meeting performance with Russian President Vladimir Putin, the pro-Trump crew at CNSNews.com had to do a lot of damage control (and more than a little pro-Putin stenography). CNS editor in chief Terry Jeffrey played the whataboutism card when he complained that gormer CIA director John Brennan, who argued that Trump was acting like a traitor over his performance, "never accused his old boss Barack Obama of 'treasonous' behavior" when Obama told then-leader Dmitry Medvedev that he would have "more flexibility" to negotiate with Russia after the 2012 election. (CNS has since pushed the spiteful idea of Trump pulling Brennan's security clearance.)
Jeffrey wasn't done playing damage control, though. His July 25 column complained that "less-than-reasonable people" were equating Russian interference in the 2016 election to that interference changing the outcome, and they "may not put it in context."
That "context," apparently, is whataboutism in rehashing the right-wing obsession over Hillary Clinton's email server and bringing up yet again FBI agent Peter Strzok's text messages with Lisa Page, with whom, Jeffrey made sure to note, he was having an "extramarital affair" -- something Jeffrey weirdly attributes to a Department of Justice inspector general report. (Strzok's sex life is another CNS obsession.) Jeffrey concluded:
The Russians favored Trump over Clinton.

"Russia's goals were to undermine public faith in the U.S. democratic process, denigrate Secretary Clinton, and harm her electability and potential presidency," the report said. "We further assess that Putin and the Russian government developed a clear preference for President-elect Trump."

But did the Russians tamper with the actual vote count? No.

"Russian intelligence obtained and maintained access to elements of multiple U.S. state or local electoral boards," said the report. "DHS assesses that the types of systems Russian actors targeted or compromised were not involved in vote tallying."

So, to change the outcome of the 2016 election, Putin's Russia would have needed to change the minds of would-be Clinton voters.

The Russia investigation is now two years old — and under the control of Special Counsel Robert Mueller. No charges have been brought against any Trump campaign official for coordinating with Russia.

Senators Marco Rubio of Florida and Chris Van Hollen of Maryland have proposed legislation to impose sanctions on foreign regimes that try to illegally influence U.S. elections. That is a good idea.

But Congress must also thoroughly investigate how the Comey-McCabe-Strzok-Page FBI handled the Russia investigation.
But the Mueller investigation is not sole about whether the Trump campaign colluded with Russia, and a lack of charges against anyone for collusion (yet, anyway) does not mean it's a failure. We suspect that Jeffrey never objected to the length of Kenneth Starr's independent counsel investigation against President Clinton or deemed it a failure because he was never indicted on anything related to Whitewater.
Posted by Terry K. at 3:44 PM EDT