CNS Gives Platform to Heritage Columnist to Cheer Authoritarian Hungarian Leader
Topic: CNSNews.com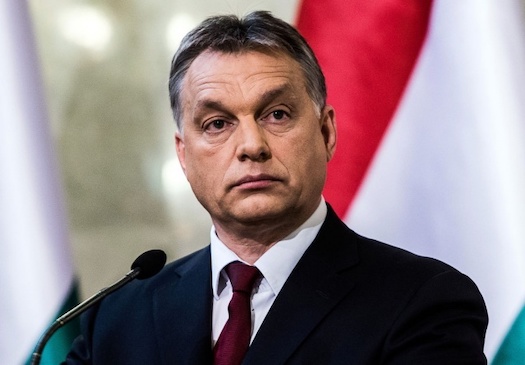 We've previously noted CNSNews.com's love for right-wing authoritarian Hungarian leader Viktor Orban, painting him as merely a Trump-esque "populist" while whitewashing his racist and xenophobic traits. The whitewashing continued in a May 23 CNS column by the Heritage Foundation's Mike Gonzalez:
Hungary's maverick prime minister, Viktor Orban, is once again stirring the pot of goulash.

Four years ago, Orban gave his critics ammunition when he said he was constructing an "illiberal democracy." This month he doubled down, declaring liberal democracy dead and urging other European leaders to stop trying to revive the corpse.

Instead, Orban exhorted them to get busy invoking a new democracy based on Christian principles.

[...]

For many reasons, Orban deserves our attention when he says his ambition—"now we want to hunt really big game" is precisely how he put it—is to change the course of Europe.

He is flushed with an electoral victory in which his party last month captured more votes than all of the opposition combined. He has defeated German Chancellor Angela Merkel on the important philosophical debate over immigration (Orban says it should be lowered). And he has vanquished the leftist billionaire George Soros, who just announced his NGO is leaving Hungary.

Most importantly, the question of values is the fundamental issue confronting the continent. Unlike the United States, modern European states are not founded upon creedal documents that lay out the constituting character and culture of the nation, and how to preserve them.
Gonzalez didn't mention Orban's history of removing governmental checks and balances, turning public broadcasating into propaganda outlets and the whiff of anti-Semitism surrounding his Soros-bashing obsession (despite the fact that a Soros-funded scholarship paid for Orban's college education).
Gonzalez waits until the 12th paragraph to concede that Orban is perhaps not an American ideal, though he whitewashes Orban's ultra-nationalism in the process:
But first it is important to note obvious downsides. Orban is no Thomas Jefferson, and his emphasis on ethnicity, not civic nationalism contained within borders, is sui generis.

If you believe that all men are created equal, are endowed by their Creator with certain unalienable rights, and that governments are instituted "to secure these rights" and "the blessings of liberty," then the type of state that Orban wants to build is likely not your bag.

[...]

Most important, securing individuals' liberties is most assuredly not the central purpose of the state he is busy creating. As he said, again, in the 2014 speech:

"The new state that we are constructing in Hungary is an illiberal state, a non-liberal state. It does not reject the fundamental principles of liberalism such as freedom, and I could list a few more, but it does not make this ideology the central element of state organization, but instead includes a different, special, national approach." (Emphasis added.)

There is good reason why ethnic, rather than civic, nationalism gives us pause. Though ethnic nationalism is unassailable from a natural rights perspective, it does de-emphasize the individual's agency by making citizenship (belonging) non-volitional.
Still, Gonzalez is not terribly bothered by all this, declaring that "this is less of an indictment of Orban than one would think" because "he's building a state for Hungarians, not Americans—and we must remember that even though safeguarding freedom must be our central animating spirit, to do that, we too, must preserve America's unique culture."
And Gonzalez concludes with a more full-throated endorsement of the authoritarian: "By attempting to reintroduce the Judeo-Christian ethic into a secularized Europe, Orban arguably is giving Europe a chance to do just that. Even if the ethnic model he and his electorate may be pursuing is irreplicable in America or most of Western Europe, the values model could have a lot to offer.­­­"
Gonzalez -- and, thus, CNS -- has to overlook a clear history of authoritarianism and anti-Semitism to reach this gushy conclusion.
Posted by Terry K. at 10:25 AM EDT
Updated: Saturday, June 23, 2018 10:27 AM EDT