CNS Whitewashes Right-Wing Hungarian Leader As Just A 'Populist"
Topic: CNSNews.com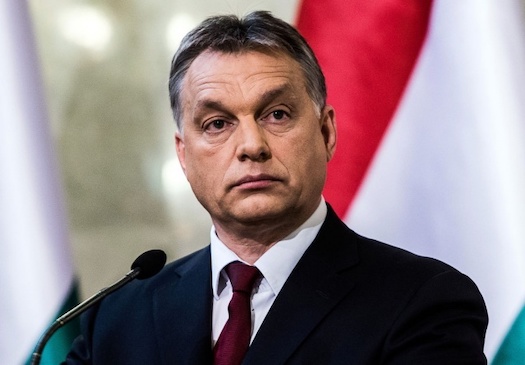 Hungarian Prime Minister Viktor Orban is a right-wing autocrat, in a country with no genuinely free press, who's currently promoting conspiracy theories about George Soros as part of his re-election bid (which is mostly assured anyway due to the fractured nature of the opposition). But at CNSNews.com Orban is just a misunderstood populist.
Patrick Goodenough wrote in a Feb. 27 CNS article:
Hungary's foreign minister called Monday for U.N. Human Rights Commissioner Zeid Ra'ad Al Hussein to be removed from his post, after the U.N. official singled out Hungarian Prime Minister Viktor Orbán for sharp criticism.

During opening remarks at the Human Rights Council in Geneva, Zeid cited Orbán as an example of "xenophobes and racists in Europe."

He was the only leader mentioned by name by the high commissioner in his hard-hitting remarks to the HRC as it opened a month-long session.
Goodenough made sure to mention that Orban is a "democratically-elected prime minister" running a "populist government," then tried to explain things away:
The context of the quote cited by Zeid was a Feb. 8 speech in which Orbán argued that a diverse community is not necessarily preferable to a homogeneous one.
"The simple fact that something is colorful and varied in character does not make it more valuable than something which is not," he said.

"And it is very important for us to use this as a firm footing: we must not allow the ground to be cut away from under our feet in moral or ethical debates, because we must defend Hungary as it is now," Orbán said.

"We must state that we do not want to be diverse and do not want to be mixed: we do not want our own color, traditions and national culture to be mixed with those of others. We do not want this."
Doesn't exactly dispel the idea that Orban is a racist and xenophob, does it?
Goodenough's companion article features another Hungarian official sounding more than a little xenophobic:
Hungary's populist government ramped up a dispute with international institutions on Monday, accusing U.N. officials of promoting migration as a right, at the expense of "the right to a safe and secure life, where we live."

"It is not a human right to pick a country where one would like to live," Hungarian Foreign Minister Peter Szijjarto told the U.N. Human Rights Council in Geneva, adding that the crossing of borders must comply with international and national regulations.

[...]

"It is not a human right to pick a country where one would like to live. Crossing borders can only happen according to international regulations, and staying in another country can happen only in the case of respecting the national regulations."

"It's time to get rid of hypocrisy and political correctness," he concluded. "We have to offer solutions to help enhance the security of all our member-states, because the number one human right is that we all have the right to a safe and secure life, where we live."
In addition to one again claiming that Orban is a "populist," Goodenough suggested he was following in the footsteps of President Trump, adding that "The Trump administration formally withdrew from" the U.N. migration negotiations Hungary is railing against, "also citing sovereignty concerns."
Posted by Terry K. at 8:57 PM EDT
Updated: Wednesday, March 21, 2018 9:03 PM EDT