MRC's Double Standard on Reporting on the Economy
Topic: Media Research Center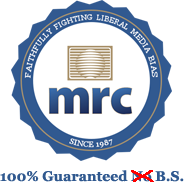 The Media Research Center's Julia A. Seymour does her pro-Trump duty in an Oct. 31 post:
The U.S. economy maintained strong growth according to the latest government estimates in the latest example of good economic news.

The Bureau of Economic Analysis announced on Oct. 27, that the first estimate of third quarter growth was 3 percent. There are two revisions to come before the end of 2017. But it remained positive news, especially since the BEA also confirmed that second quarter growth was 3.1 percent thanks to consumer spending and business investment.

The broadcast evening news programs ignored that good economic news — just like they ignored the 3 percent GDP announcement in August. However, many other news organizations — from NPR to CNBC — noted the positive result.

Throughout Donald Trump's presidency the networks have minimized and ignored positive economic news, in spite of the fact many people voted for him thinking his policies would improve the U.S. economy.
Needless to say, Seymour is being utterly hypocritical. In July 2016, for example, she wrote a report complaining that the media was failing to talk down the economy under Obama, declaring that "Overall economic growth remains 'subpar' and labor force participation rates remain shocking, not far from 38-year lows." The economy was "still reveling in pain and weakness," Seymour insisted. As is standard MRC practice, Seymour did only the bare minimum of research by focusing solely on network evening newscasts and pretending they're representative of the entire media.
And in March, Seymour was demanding that Trump be given the credit for February's good jobless numbers, though she offered no evidence of any one thing he did to contribute to them, and was incensed that the numbers were being considered a reflection of President Obama's economy.
Seymour is acting as a partisan, not an objective researcher. Like the media she loves to hypocritically target, she only cares about the numbers that make her side look good.
Posted by Terry K. at 4:38 PM EST