After Vegas Massacre, WND Still Doesn't Want To Talk About Dylann Roof
Topic: WorldNetDaily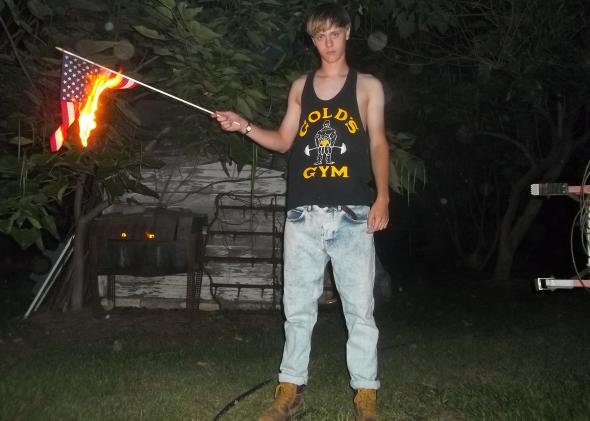 We've previously documented WorldNetDaily's reluctant to hae a serious conversation about Dylann Roof, the young man who murdered several black churchgoers in Charleston, S.C., in 2015 -- WND would rather talk about anything other than the white supremacist views he held, and which WND was working on the fringes of prior to the shooting.
After the Las Vegas massacre -- which seemed like a good time to rehash previous mass shootings -- WND made sure not to talk about Roof.
Shortly after the shooting, WND's Alicia Powe wrote an article declaring that "Over the last 20 years, the perpetrators of nearly all the deadliest mass shooting in the United States have shared one of two traits: Besides killing innocents with firearms, they either were Muslims or were using mind-altering psychiatric drugs." The article included a list of those perpetrators -- a list that curiously omitted Roof, despite the fact that WND has previously argued that Roof was "a young man who was into long-term and hard-core drug abuse" and allegedly using the "powerful narcotic" suboxone, and published another article placing Roof on its "big list of drug-induced killers."
WND managing editor David Kupelian followed with an Oct. 8 column that rushed to blame "the left" for somehow making Stephen Paddock commit the Vegas massacre:
Within this nihilistic worldview, a person like Stephen Paddock, who for whatever reason decides to shoot hundreds of human beings, is arguably just changing the form and configuration of their energy and matter from one form into another. Not that Paddock consciously thought this way; demons controlled his mind. He was extremely angry at whatever had gone wrong in his life and wanted revenge – and, probably, also to be remembered as a notorious mass-murderer.

Friends, this is a dangerous realm into which the left is ushering us, this place where there is no objective meaning, no absolute right and wrong, no good and evil, no moral and immoral, no male and female – where everything is relative and means whatever you choose it to mean, all because you demand ultimate freedom. Because when nothing means anything, even murder is reduced to rearranging matter and energy in other people from one form to another.
Kupelian doesn't mention Roof in his article -- he can't, because he can't blame "the left" for Roof's racism.That's a phenomenon of his side of the ledger.
WND did do an article that referenced Roof, albeit a few days before the Vegas massacre. An anonymously written Sept. 30 article noted the claim that a black man who killed one person and wounded several others at a church in Tennessee did so in retaliation for Roof's massacre. WND called Roof a "white supremacist" but didn't note how his views on black crime and South Africa paralleled that of WND.
Posted by Terry K. at 1:52 AM EDT