WND's Las Vegas Coverage Heads Straight For Conspiracy Territory
Topic: WorldNetDaily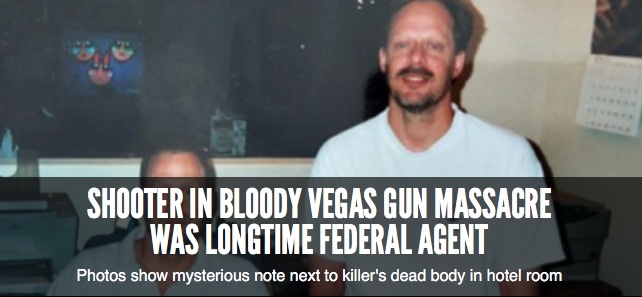 As is its M.O., WorldNetDaily's coverage of the Las Vegas mass shooting headed to conspiracy territory fairly quickly.
Leo Hohmann penned an article headlined "Shooter in Vegas massacre was a longtime federal agent." But he's overstating the case, given that it involved Stephen Paddock being a mail carrier, an IRS agent and an auditor for the Defense Department over a 10-year span ending in the mid-1980s. That's likely why the headline on Hohmann's article later changed "federal agent" to "fed." (Who knew mail carriers were "federal agents"?)
Nevertheless, Hohmann insisted this was a significant development: "With his institutional knowledge of how the federal bureaucracy works, Paddock was anything but the typical mass shooter. He would have been able to cover his tracks in the planning stages of his attack." Again, Paddock's federal employment was 30 years ago, making it unlikely that his "institutional knowledge" would still apply today.
Hohmann devoted another article to trying to build the credibility of ISIS' claim of responsibilty for the Las Vegas shooting, despite the fact that nobody actually investigating the shooting currently believes this to be so.
Alicia Powe, meanwhile, rushed to spin away any responsibility for the shooting on the arsenal of guns Paddock had accumulated: "Over the last 20 years, the perpetrators of nearly all the deadliest mass shooting in the United States have shared one of two traits: Besides killing innocents with firearms, they either were Muslims or were using mind-altering psychiatric drugs."
Powe then found a story that conveniently fit her narrative:
Las Vegas mass murderer Stephen Paddock, who killed at least 58 people on Sunday, was taking a psychiatric drug that can promote aggressive behavior.

Paddock was prescribed 50 10-milligram diazepam tablets on June 21 and purchased the drug at a Walgreens store in Reno the same day it was prescribed, according to records from the Nevada Prescription Program obtained Tuesday by the Las Vegas Review-Journal.

Henderson physician Dr. Steven Winkler prescribed Paddock diazepam, more commonly known as Valium, and instructed Paddock to take one pill a day.
Powe conspiratorially added: "But the truth about mass shootings and psychiatric drugs is being swept under the rug by the media. Corporate media outlets face a major conflict of interests by exposing big pharma corruption."
Look for more conspiracies from WND as the investigation continues.
Posted by Terry K. at 1:14 AM EDT
Updated: Thursday, October 5, 2017 1:17 AM EDT