Stenography: CNS Does 4 Articles on Trump's U.N. Speech
Topic: CNSNews.com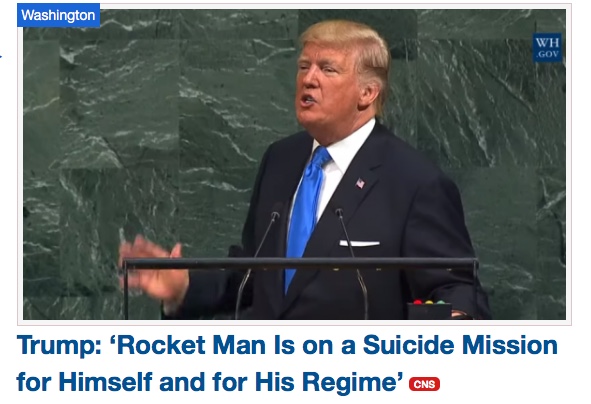 How eager is CNSNews.com to serve as President Trump's stenographer? It assigned at least three writer to do four -- count 'em, four -- articles on Trump's speech to the United Nations.
First up was Susan Jones, who touted how "President Trump lumped Iran with North Korea, saying both countries are led by 'reckless' regimes," complete with lengthy, copy-and-pasted speech excerpt. She was followed a few minutes later by Mlanie Arter cheering how "President Donald Trump said that if North Korea forces the United States to defend itself or its allies, the U.S. will 'totally destroy' it."
Then, an anonymous CNS writer, in an article credited only to "CNSNews.com Staff," gushed over how Trump "highlighted the fact that although there are 193 nations in the U.N., the U.S. pays 22 percent of the organizations budget." The next day, another anonymously written article featured how Trump made a shout-out to "the almighty God who made us all."
On top of that, prior to Trump's speech, Arter did another fawning article, touting how "In his first appearance at the United Nations, President Donald Trump said bureaucracy and mismanagement are reasons why the world body has not reached its full potential."
There's no journalistic reason to send at least three writers to pen four articles on a Trump speech that could be easily summed up in one. CNS simply cherry-picked the portions of the speech it thought helped further its right-wing agenda, then put them in separate articles to pad out its story count and give the illusion that CNS is a legitmate and prolific "news" organization.
Posted by Terry K. at 3:38 PM EDT