MRC, CNS Have A Sally Quinn Freakout
Topic: Media Research Center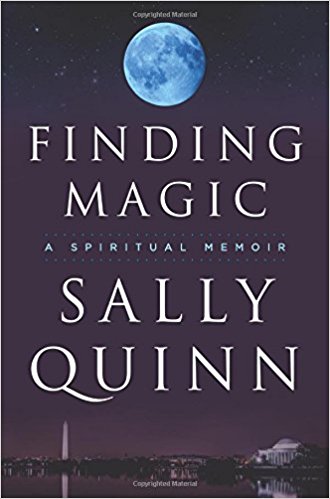 CNSNews.com managing editor Michael W. Chapman is horrified in a Sept. 13 blog post that "In her new book, Finding Magic: A Spiritual Memoir, Washington Post journalist Sally Quinn, the widow of former Post Executive Editor Ben Bradlee (d.2014), admits that she believes in and has practiced the occult since childhood, and even placed hexes on people. He concluded by huffing: "The liberal media and Washington insiders, incidentally, mocked Nancy Reagan for consulting an astrologer. Why were they so silent, for decades, about Sally Quinn and her occultism?"
Perhaps because Quinn married to a journalist and was not the first lady of the United States, perhaps? That distinction appears to have escaped Chapman, who's much more comfortable promoting so-called Christians expressing their hatred for the LGBT community.
Chapman isn't the only Media Research Center employee huffing and puffing about Quinn. Tom Blumer is in full dudgeon at NewsBusters, somehow equating the lack of public knowledge about Quinn's occultic tendencies to a political scandal akin to Watergate (and cites co-worker Chapman along the way):
The reception given to Sally Quinn's new book, Finding Magic, has been strangely quiet.

Perhaps that's because the book shamelessly reveals that since 1973, if not earlier, Quinn, who was the nation's capital's de facto social gatekeeper for several decades, deceived the world about the true nature of her "religious" outlook, and did so with the help of the rest of the Washington press corps — that is, if one considers belief in the occult, practicing voodoo, and supposedly communicating with ghosts (sound familiar?) the foundations of a "religion."

[...]

The bolded sentence in the final excerpted paragraph is very telling. It reveals that Quinn's occultism was an open Beltway secret for over four decades which no reporter in the media echo chamber had the courage to share with the public this crowd of alleged journalists piously claims to serve.

[...]

Quinn, like so many other reporters who were or still are at the Post, was a fan of citing unnamed "sources." Ronald Reagan himself insisted that "no policy or decision in my mind has ever been influenced by astrology."

As to what's really "frightening and shocking," I'd place a closeted practitioner of occultism who believes in murderous hexes pretending to be offended by astrology to score cheap political points against the First Lady of a wildly successful two-term presidential administration several "frightening and shocking" notches above a protective First Lady who allegedly consulted the stars and had "a role" in Ronald Reagan's "scheduling."

[...]

Otherwise, media coverage of Quinn's new book has been very light.

It's understandable, given how this book effectively shames members of the Washington press corps irrevocably for the history books for a disgraceful four-plus decade coverup.
If Blumer could demonstrate when Quinn's personal life was relevant to anything she had done in public, he might have a point. Since he can't, he's just engaged in a meaningless right-wing rant.
Posted by Terry K. at 9:24 PM EDT
Updated: Wednesday, September 20, 2017 9:25 PM EDT