CNS Unemployment Coverage Distortion Watch
Topic: CNSNews.com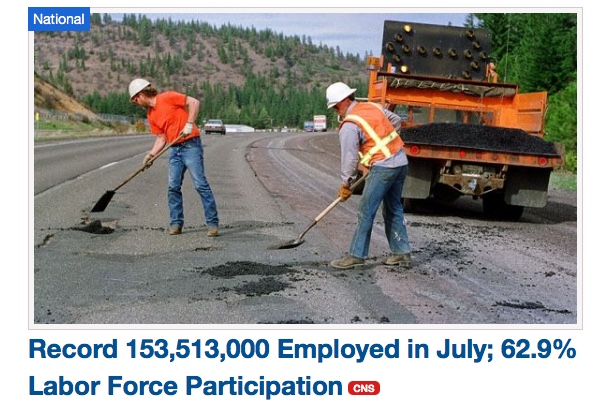 The Trump flip on unemployment reporting at CNSNews.com continues in a big way with the newly announced numbers for July.
The main story by Susan Jones began by touting the number of jobs created, as expected. She did surprisingly acknowledge in the third paragraph the low labor force participation rate, but unlike her reporting on this during the Obama years she quickly dismisses its importance by claiming it was being "held down in part by a wave of Baby Boomer retirements." It was during the Obama years too, but Jones rarely bothered to explain it, and never so far up in a Obama-era jobless numbers article.
CNS editor in chief Terry Jeffrey contributed his usual article on manufacturing jobs under the headline "Manufacturing Jobs Hit Highest Level Since Obama's Inauguration." Jeffrey omits the relevant fact that the economy was in free fall at the time of Obama's inauguration and gives Obama no credit for the fact that manufacturing jobs are up about 1 million from the depth of the recession.
Then -- as if he read our article noting that he hadn't written about black unemployment since Trump took office, presumably because he now had to make Trump look good -- managing editor Michael W. Chapman wrote about it for the first time during the Trump presidency, making sure to figure out a pro-Trump spin:
Although the national unemployment rate for July was 4.3%, the unemployment rate for black workers was nearly double that of white workers, but it was also at a rate for blacks not seen since December 2000, according to data from the Bureau of Labor Statistics (BLS).

In addition, the June unemployment rate for blacks of 7.1% was nearly at a level only seen once in the last 45 years -- 7.0% in April 2000.
Needless to say, Chapman gives Obama no credit whatsoever for cutting the black unemployment rate by more than half from the depths of the recession (and, like Jeffrey, fails to mention there even was a recession that hindered employment).
As has been a staple in recent months, CNS also published an op-ed by the Heritage Foundation's Timothy Doescher touting the low unempolyment rate -- claiming without evidence that "gains have likely come from reductions in harmful regulations that make it easier to run businesses in the U.S." -- and cheerleading for Trump policies that would purportedly cut the unemployment rate even further
Posted by Terry K. at 3:18 PM EDT