MRC's Wilmouth: Ignore That Scalise Apologized For Giving That Speech, He Totally Didn't Give It!
Topic: Media Research Center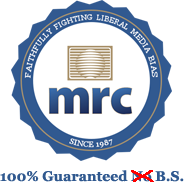 For a while now, the Media Research Center's Brad Wilmouth has been vociferously denying that Republican Rep. Steve Scalise once spoke to a David Duke-founded group -- despite the fact that Scalise has apologized for giving said speech.
So desperate is Wilmouth to cling to his falsehood that he issued a rare MRC attack on Fox News in a June 16 post:
The discredited claims that House Majority Whip Steve Scalise 15 years ago spoke to a white supremacist group founded by former KKK leader David Duke have left such a mark, that the claims even manage to make it onto Fox News Channel more than two years after the more dominant drive-by liberal media seized on them.

On Wednesday's Fox and Friends, as Fox News producer Greg Pergram reported in by phone in the aftermath of the attack on congressional Republicans in Alexandria, Virginia, he incorrectly recalled that it was the KKK that Scalise was accused of meeting with, when in reality the debunked accusation was that he spoke to a white nationalist group that was founded by Duke.

Additionally, Pergram failed to inform viewers that, even though Scalise issued an apology, the central claim that Scalise spoke to Duke's group was undermined both by a flyer from the event that did not list Scalise as a speaker, and by a man who helped organize the event who claimed that he invited Scalise to speak at a separate gathering in the same hotel that was not part of the white nationalist convention.
Brad, honey, Scalise apologized for speaking to the group. That trumps any defense you're offering. Accept it and move on with your life.
Posted by Terry K. at 12:58 AM EDT