WND Columnist Rants Against Early Voting
Topic: WorldNetDaily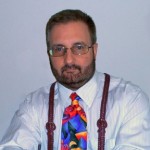 Brent Smith devotes his May 29 WorldNetDaily column to a tirade against early voting:
Still, the early-voting craze did not catch fire until the contentious presidential race of 2000, between George W. Bush and Earth's best friend, Al Gore. Democrats from Gore down to the state and district level in Florida did their best to steal the election, but they just couldn't pull it off.

It was said by some on left that the 2000 election was proof that Election Day-only voting was just too chaotic. It would wiser to allow for early voting. As liberal Paul Gronke, a professor of political science at equally liberal Reed College and founder and director of the completely partisan Early Voting Information Center said, early voting would reduce "the pressures on election officials on Election Day" and "the likelihood of long lines or polling place problems." It was after that when states began to enact laws to allow for early cheating, uh, I mean, voting.

In 2016, 37 states and the District of Columbia allowed early voting, and over 36 percent of voters (and others) took advantage. In some cases votes were cast almost a month ahead of time. As we just witnessed in Montana – a lot can happen in that month's time, leading some voters to regret the decision to vote early.

We constitutionalists have never been fans of early voting. It promotes opportunities to cheat and otherwise game the system, which is why Democrats are all for it. My personal view is that you have two years, minimum, to plan to vote on Election Day. Most polls open at 7 a.m. and stay open until 8 p.m. If you can't find the time to stumble into a polling place on that day, frankly, you don't deserve to vote.
Strangely, thouygh Smith insists that early voting is "cheating" and "promotes opportunities to cheat and otherwise game the system," he provides no actual evidence that any cheating or system-gaming has ever happened because of it.
Instead, he offers up only "that's the way we've always done it" and potential "regret." Those similarly empty claims are merely proof that Smith doesn't have an actual argument to make.
Posted by Terry K. at 2:30 PM EDT