Shocker: CNS Leads With Bad News About Unemployment Under Trump
Topic: CNSNews.com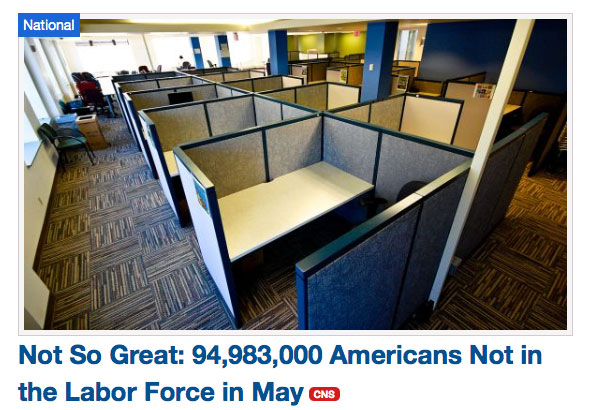 CNSNews.com has finally found some bad economic numbers that it ss couldn't bury.
As we've documented, CNS' relentlessly negative tone about jobless numbers under the Obama administration became aggressively positive once President Trump took office. But the one cherry-picked statistic CNS obsessed about during the Obama years -- the labor force participation rate -- was bad enough that even CNS reporter and Trump stenograph Susan Jones couldn't spin it.
Not that she didn't try, though. Still, the tone of her June 2 article is a bit resigned:
A disappointing report from the Labor Department's Bureau of Labor Statistics on Friday: The economy added 138,000 jobs in May, fewer than analysts were expecting; and after setting three straight monthly records, the number of unemployed Americans dropped by 233,000 to 152,923,000.

The unemployment rate ticked down a tenth of a point to 4.3 percent, near historic lows.

But the number of Americans not in the labor force – meaning they are neither working nor looking for work – increased by 608,000 to 94,983,000 in May, close to the record high of 95,102,000 in December 2016. The not-in-the-labor-force number includes retirees, students, homemakers, the disabled, and others who have stopped looking for work for whatever reason.

The nation's labor force participation rate – the percentage of the 16-and-older civilian non-institutionalized population that is either employed or actively seeking work – dropped two-tenths of a point to 62.7 percent in May.
That explanation of who isn't working, like retirees and students, rarely placed so high, if at all, in a Jones jobless rate story under Obama.
Jones' article was joined by the usual sidebar from Terry Jeffrey complaining there are more jobs in government than in manufacturing. Missing again are Obama-era sidebars about the "real unemployment rate" and how black unemployement is higher than white unemployment. It's almost as if CNS did those sidebars for the sole purpose of making Obama look bad and doesn't want to highlight that those numbers look pretty much thte same under Trump.
CNS tried to do some after-the-fact spinning of all this by publishing a June 5 op-ed by the Heritage Foundation's Timothy Doescher, who delcared that to fix these numbers, "We need fundamental tax reform, the repeal of Obamacare—which continues to make hiring difficult for small businesses—and a serious reform of our welfare system, which rewards able-bodied people for not working and swelled to historic levels under the Obama administration."
Posted by Terry K. at 2:03 PM EDT