MRC Forgets It Bashed Burger Chain's Racy Ads Before Its CEO Became Right-Wing Darling (And Trump Nominee)
Topic: Media Research Center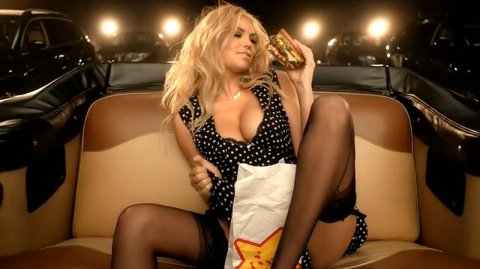 The Media Research Center's Scott Whitlock whined in a Dec. 9 post that coverage on NBC's "Today" about Hardee's and Carl's Jr. executive Andy Puzder, donald Trump's nominee for labor secretary, "chided the Carl's Jr. CEO for his company's racy ads." Whitlock huffed that "Today" reporter Peter Alexander "played a clip of a Carl's Jr. fast-food ad featuring scantily clad women and chided, 'While Puzder approves of these racy ads, he opposes broader overtime pay and minimum wage increases.' What does one have to do with the other? Alexander didn't say."
Whitlock further huffed that "Additionally, it seems odd for NBC to suddenly turn prudish after promoting Fifty Shades of Grey for a full week, repeatedly playing clips and trailers from the bondage film." Actually, according to the link Whitlock supplied, it wasn't the entire network doing this, just "Today."
But Whitlock's complaint rings hollow for another reason. You know who else used to complain about the "racy ads" put out by Puzder's company? The MRC.
Lauren Thompson complained in a February 2012 MRC post:
Most families would agree that eating a hamburger is a normal and appropriate thing to do at dinner, but Carl's Jr. has turned an American past-time into sexual foreplay with its string of salacious advertisements.

The burger chain used to be known as a family franchise, but recently began targeting, teenage males with lust-filled commercials, and in the past they have showcased both Paris Hilton and Kim Kardashian in overtly raunchy roles in order to garner attention for their product.

The new advertisement for their Southwest Patty Melt features 19-year-old model Kate Upton sweating and stripping off her clothes while suggestively consuming a burger. The ad far from family friendly, especially when the young starlet straddles the burger bag and places her hand between her legs, all while nearly exposing her breasts.

Andy Pudzer [sic], who is the CEO of CKE Restaurants, the parent to Carl's Jr. and Hardee's told USA Today that, "The first thing you have to do is get people to watch your ads. I guarantee you there will be a very small number of young guys fast-forwarding through this ad."

A longer, racier version will be featured on their website further adding to today's culture meltdown.
But as the MRC has demonstrated with its flip-flop on Donald Trump, it will look the other way on morality issues -- typically the bread and butter of a conservative organization -- as long as sufficient lip service is given to toeing right-wing orthodoxy. In May 2015, it touted Puzder's defense of Wisconsin Gov. Scott Walker and on job growth in the state; and in March, Tom Blumer cheered how Puzder was moving his company from California to Tennessee to avoid California's "intolerable" (in Blumer's words) labor laws.
Posted by Terry K. at 12:56 AM EST
Updated: Wednesday, December 14, 2016 8:51 AM EST