WND Pushes Anonymous Tabloid Claim, Censors Tabloid's Trump Connection
Topic: WorldNetDaily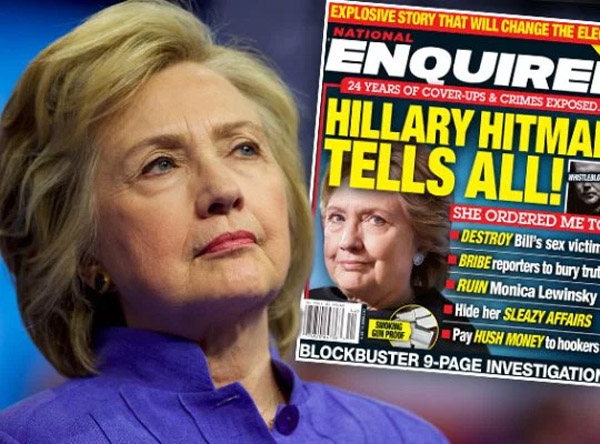 Appropriately enough, WorldNetDaily's Oct. 18 article was written by an anonymous reporter:
Is Hillary Clinton a "sex freak" who has paid fixers to arrange sex between her and other men and women?

That's according to a National Enquirer headline story splashed across the Drudge Report Tuesday. The tabloid magazine claims to be in contact with a "former Clinton family operative who is sensationally breaking ranks with his one-time bosses."

The magazine claims the "fixer" was hired by the Clintons, via a Hollywood executive, to hide their scandals.

"I arranged a meeting for Hillary and a woman in an exclusive Beverly Hills hotel," the man allegedly told the tabloid. "She had come to the studio to see the filming of a movie in 1994.

"While I was there, I helped her slip out of a back exit for a one-on-one session with the other woman. It was made to look casual, leaving quietly [rather than] being caught up in the melee … but really it was for something presumably more sordid."

The man claimed he also helped cover up an alleged affair between Hillary and Vince Foster.
WND doesn't mention that the "fixer" the Enquirer claims did all this for Hillary has chosen to remain anonymous -- which completely undermines the story's legitimacy.
WND also censors one very important fact regarding this story: The Enquirer is very cozy with the Trump campaign. According to the Washington Post, Trump and chief executive David Pecker are very close, Trump has actually written articles for the Enquirer, and the Enquirer has endorsed Trump.
Add to that the Enquirer's less-than-stellar journalistic reputation, and there's no real reason to anyone to believe this story. WND is not helping its massive credibility issues by promoting this story.
Posted by Terry K. at 3:03 PM EDT