MRC, As Expected, Bashes 'Pushy' Debate Moderators
Topic: Media Research Center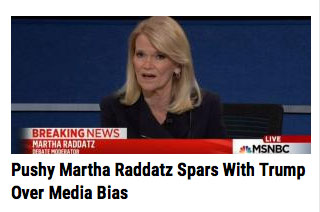 It was all but guaranteed that the Media Research Center would not like the performance of the moderators at Sunday's presidential debate, because they do not work for Fox News. And so, the MRC commenced with the grim task of denouncing ABC's Martha Raddatz and CNN's Anderson Cooper.
Scott Whitlock kicked things off by going a little sexist, calling Raddatz "pushy" in the headline of his post-debate item. He complained that "Raddatz frequently interrupted Donald Trump and sparred with the businessman over media bias and fairness during Sunday's debate.
In his friendly Fox Business appearance in which he also joined Trump in the mud, MRC chief Brent Bozell huffed of Raddatz: "She showed utter contempt for Donald Trump on a national stage. She dismissed his answers. She even argued with him about his answers. She actually entered into the debate Candy Crowley-style. So I don't blame Donald Trump at all for saying it was a one-on-three debate." Bozell didn't explain why a man who talked in such a vile manner about women that even Bozell himself conceded was "disgusting" did not deserved to be treated with the "utter contempt" he claims Raddatz showed him.
While this utterly predictable right-wing bashing of Raddatz was going on, the MRC's Kyle Drennen was unironically complaining that "the liberal media predictably celebrated the moderator's biased performance."
Rich Noyes followed his boss to Fox Business for a softball appearance, where he similarly complained about Raddatz and Cooper: "Yeah, it was about 2-1. You know, about 20-something interruptions, you know some of those might be multiple interactions, to fewer than a dozen for Hillary Clinton. But it was more than interruptions. You know, they were challenging Donald Trump. They were pressing him in a very adversarial way. They asked her tough questions but not in that challenging adversarial way." He also expressed his anger at Cooper for pushing Trump to answer questions about the vile video: "Anderson Cooper's questions at the beginning of the debate about this inside-- Access Hollywood tape where he pressed him over and over and over again to get the answer he wanted."
Yes, how dare Cooper press Trump to answer a question about something Noyes would be praising Cooper for doing were the subject not a Republican.
Remember: The main goal of the MRC's criticism of debate moderators is not to advance the cause of journalism but to advance the agenda of the Republican Party -- no matter how vile the Republican presidential candidate is. That's why, as the Daily Beast's John Avlon memorably explained to the MRC's Tim Graham (in such a direct manner that the MRC won't let its readers sees it), the MRC has no credibility on such things.
Posted by Terry K. at 12:37 AM EDT