Is WND's Cahn Allied With ISIS On Destruction of Pagan Ruins?
Topic: WorldNetDaily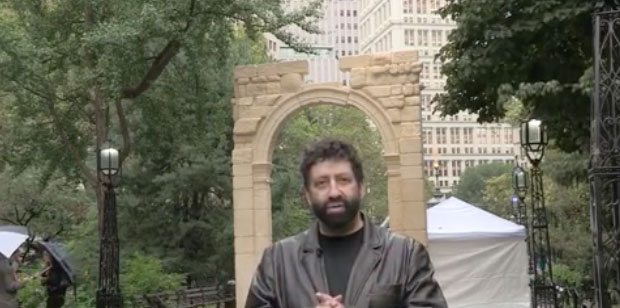 WorldNetDaily gave its main cash cow, Jonathan Cahn, to wax prophetically, as he's wont to do, about a recreation of the arch from the Temple of Bel (Baal, as Cahn insists on using) at Palmyra, Syria, going on display in New York City. As one would expect from a guy who wrote a book called "The Harbinger," Cahn declared this a harbinger as well:
The idea that anything linked to an ancient Canaanite god would be erected in America would seem unthinkable. But just as it was with the nine ancient harbingers of judgment, so it has now taken place – the Sign of Baal has manifested on American soil.

It took place on a rainy Monday afternoon, Sept. 19, 2016. It happened in the city of the harbingers of judgment – New York City. No one who erected it or who unveiled it had any idea what they were doing – just as with the harbingers – but they did it anyway.

One of the centers of Baal worship in ancient times was Palmyra, Syria. The city contained not one but two prominent temples to Baal. The Romans erected an arch there to lead to the Temple of Baal. So the worshipers of Baal would walk through the arch and approach the temple in which they would venerate their god. This arch that led to the Temple of Baal was reproduced down to the smallest detail and erected in New York City.

[...]

As I stared at the ancient object being set up in New York City, I was struck in the same way as I was when I saw the nine prophetic signs of "The Harbinger." Since 9/11, America has not only not returned to God – it has rebelled against Him in an ever deepening, ever intensifying and ever accelerating apostasy. It is eerily following the judgment template of the harbingers and the footsteps of ancient Israel as it headed to destruction.

And now, against all odds, the sign of Baal has appeared on American soil, the sign of a nation that had once known God, having fallen away, the sign of the god of the harbingers, the sign of national apostasy, the sign of judgment.
Missing from Cahn's article -- as well as from the accompanying video, which distractingly adds ominous-sounding background music and an echo to Cahn's voice to make him sound more authoritative -- is a bunch of important information: the full history of the temple, the fate of the original arch and why a replica was created. Cahn wants you to think this was done apropos of nothing other than to fulfill his own prophecies.
While the temple started as a worship site for a pagan god, the temple was converted into a Christian church during the Byzantine Era and, later, a mosque. The temple's remains were destroyed by ISIS during its occupation of Palmyra last year, and the arch is all that remains.
The recreation of the arch -- which was also on display in London -- was spearheaded by the Institute for Digital Archaeology, a joint venture between Harvard University, the University of Oxford and Dubai's Museum of the Future that promotes the use of digital imaging and 3D printing in archaeology and conservation. The recreations are meant to celebreate World Heritage Week, as well as serve as an act of defiance to ISIS' attempts to erase evidence of the Middle East's pre-Islamic history.
A few days later, WND did a follow-up article rehashing much of what Cahn said. This article did admit the original temple was destroyed by ISIS and quoted officials calling it an act of "solidarity" with those "lost in Syria," and "a symbol of freedom," but adding that "Cahn said it was anything but a symbol of freedom." Cahn is not quoted as further discussing the destruction by ISIS.
Which raises the question: Does Cahn endorse ISIS' destruction of a priceless, centuries-old historical artifact?
While Cahn and ISIS do not share religious views, they seem to align with their hatred for certain ancient relics -- ISIS because it thinks any shrines or statues implying the existence of another deity are sacrilege and idolatry, Cahn because he despises pagan gods. (Again, never mind that the Temple of Bel had also served as both a church and a mosque.)
Cahn never discusses the historical value of the temple or mentions ISIS, much less condemn it -- all he cares about is that he can exploit the situation for his own gain -- and one would think ISIS' destruction of a 2,000-year-old temple would be worthy of some criticism, if only on a historical level.
So it seems Cahn is cool with ISIS on this act of destruction, and perhaps with the obliteration of other pagan-linked site and artifacts by ISIS. Is that the kind of person who should be taken seriously?
Posted by Terry K. at 1:08 AM EDT