Newsmax Pushes Slobbering Profile of Melania Trump
Topic: Newsmax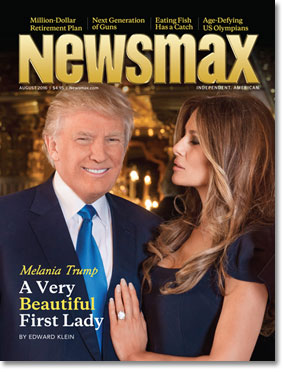 The new issue of Newsmax magazine, just in time for the election, has a slobbering tribute to Donald Trump's wife, penned by discredited right-winger Ed Klein. Heck, they've even declared her "First Lady" even before a single ballot has been cast!
As touted on the magazine's latest promo page:
Here's the Melania you don't know.

In this exclusive report, New York Times best-selling author Edward Klein reveals the real Melania — one the media won't report.

She soon could be America's next first lady.

And, Edward Klein shows that she's a sharp, driven, intelligent mother who would make a perfect first lady to a President Donald Trump.

Melania is a traditionalist — she stands behind her man!

Klein also reveals that Melania is an influential adviser to her billionaire husband.

In fact, it turns out she was instrumental in his decision to run for the highest office in the land.

The Newsmax report explains how Melania is the real deal: the embodiment of the American dream.

Born in Slovenia, she pursued a modeling career in Milan until she wound up on the shores of America, eventually steering a jewelry collection and beauty products line at the famed QVC.

Then she met The Donald.

With him, she found a new calling as part of a team that set out to "make America great again."

She also decided to downplay her career to become a mother, having her and Donald's son Barron.

Her flair for business and touch of style have led many to compare her to Jackie Kennedy, Nancy Reagan, and even Michelle Obama.

In short, author Edward Klein, former Newsweek editor, writes that she would find herself quite at home at 1600 Pennsylvania Ave.
Sucscribe now, and they'll even throw in a copy of Dick Morris' Hillary-hating (and Newsmax-published) book!
Posted by Terry K. at 3:02 PM EDT
Updated: Friday, August 26, 2016 3:03 PM EDT