Bozell's Hypocrisy on Demanding A Full Retraction For a Misquote
Topic: Media Research Center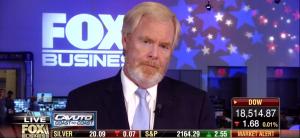 The Media Reserarch Center is nothing if not a loyal supporter and protector of Fox News (if only to guarantee that Brent Bozell and his underlings regularly appear on it). It won't even criticize blatantly biased pro-Trump propaganda on the channel even though it's indisputably an example of media bias.
Thus, it's unsurprising that NewsBusters, the MRC's main portal, has been totally silent about the sexual harrassment lawsuit former Fox News host Gretchen Carlson has filed against Fox News chief Roger Ailes. And the only time the MRC's "news" division, CNSNews.com, has ever mentioned it on its front page is a July 15 Associated Press article on Ailes trying to move the case to arbitration.
So when MRC chief Brent Bozell made appearances on Fox News and Fox Business on July 18, network officials knew he would never talk about the Ailes lawsuit. So what did he talk about instead? How the Washington Post misattributed a statement by Marco Rubio to Fox News (and Fox Business) host Neil Cavuto. And of course, Bozell ramps this up to a full conspiracy-level scandal:
Fox Business Network brought on MRC President Brent Bozell Monday afternoon to talk about how the Washington Post smeared FBN host Neil Cavuto in an article in Sunday's paper. In a roundup list of conservatives who were wrong about Trump getting the likely nomination, the Post inaccurately attributed a Marco Rubio quote to Neil Cavuto. After host Charles Payne asked Brent Bozell if this was "sloppy reporting," Bozell responded that it was "absolutely sloppy" and that he thought the paper "owes an apology and a retraction."

Payne observed that it seemed like the liberal media liked to pit conservatives against each other, with articles like this. Bozell agreed, that "the establishment press" like the New York Times and the Washington Post have always had a "certain disdain" for Fox News and because of that, they get loose with the facts and "gravitate" towards this kind of journalism. "I wonder how many people on the left they would look at in journalism?" Bozell asked. "They don't. They want to find an opportunity to go after Fox at every chance that they get," he added.
As usual, Bozell is being utterly hypocritical in his demands. Back in the mid-1990s, the MRC pulled random quotes from a book by then-New York Times editor Howell Raines and claimed that they maliciously disparaged Ronald Reagan. In fact, the MRC cobbled together statements 28 pages apart in Raines' book to make the claim.
When the Daily Howler's Bob Somerby called out the MRC on its egregious error several years later, did Bozell admit the "absolutely sloppy" work and issue "an apology and a retraction"? Of course not -- it simply appended a "clarifiaction" to the false posts and added the tepid statement, "We regret the confusion." No correction, no apology.
Unless Bozell can offer on the MRC's Raines misquotes what he demands the Post do for Cavuto, he needs to shut up about this. Then again, he was able to parlay his faux outrage into two TV appearances, so maybe that's all that matters to him.
Posted by Terry K. at 11:27 AM EDT