No, WND Is Not Nazi, But ...
Topic: WorldNetDaily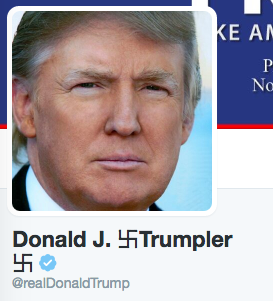 So apparently there's a Google Chrome app called Nazi Detector that claims to single out right-wing pro-white extremists by putting swastikas next to their names in that browser -- a response to the "Coincidence Detector" app created by neo-Nazis that highlighted Jews on the internet. The Nazi Detector app apparently flagged WND as a organization that deserved this treatment. Cue the outrage from WND:
WND itself is also identified as a "Nazi" group. WND founder Joseph Farah reacted with outrage.

"The left loves to label its opposition as Nazis," he said scornfully. "It's disgusting in so many ways – from trivializing the unique horror that Nazis inflicted on their innocent victims to scapegoating and criminalizing political differences just as the Nazis themselves did.

"Nazism was a form of socialism, which I oppose. It's a form of totalitarianism, which I oppose. It's a form of state terror, which I oppose. How many of those things do leftists actually oppose?"
Now, we wouldn't go so far as to label WND as Nazi sympathizers. But it's undeniable that WND has gone partly in that direction with its promotion of white nationalist views.
As we documented following Dylann Roof's massacre of several black churchgoers, the white-supremacist views in his manifesto closely tracked WND's editorial agenda over the past few years, with its obsession with black-on-white crime (particularly in the George Zimmerman case) and writers who pine for the days of apartheid in South Africa.WND has never challenged our pointing out of these views, though a few months ago it dropped its chief apartheid-lamenter, Ilana Mercer, as a columnist.
And while WND has been a staunch supporter of Israel -- solicitations masquerading as "news" articles begging readers to shell out to join Farah on his apparently annual trip to the Holy Land have been omnipresent in recent days -- it also has a regular columnist Pat Buchanan, who has fretted that there are too many Jews on the Supreme Court.
But then, WND weirdly soft-pedals the racist nature of the Coincidence Detector app:
The "Nazi Detector" is based on the "Coincidence Detector," another app for Google Chrome which automatically put parentheses around Jewish names designed to represent "echoes." The "echo" meme was created by the blog The Right Stuff in an attempt to draw attention to what the blog's authors said was disproportionate Jewish involvement in left-wing movements and causes.

After several Jewish reporters said they were "targeted" with the parentheses online, a spate of articles revealed the supposedly "secret symbol" used to "identify and target Jews." The "Coincidence Detector" was promptly removed from the Chrome App marketplace, though the "Nazi Detector" remains available.

Some Jewish writers expressed discomfort about the "creepy" and anti-Semitic "Coincidence Detector" because of the "dark, murderous history to the practice of maintaining lists of Jews."
Actually, the folks at The Right Stuff specifically stated their anti-Semitic intent with the app to serve as a critique of "Jewish power":
"The inner parenthesis represent the Jews' subversion of the home [and] destruction of the family through mass-media degeneracy. The next [parenthesis] represents the destruction of the nation through mass immigration, and the outer [parenthesis] represents international Jewry and world Zionism."
So, no, WND, Coincidence Detector is not a commentary on liberal Jewry.
Both of these apps are blunt instruments designed to make a political statement -- Nazi Detector, for example also flags Pamela Geller, and much of WND's article is dedicated to quoting her screeching about it, but she's merely a xenophobic Muslim-hater, not a Nazi.
So how is it that WND is incredibly offended by Nazi Detector, but it hides the anti-Semitism behind Coincidence Detector? Maybe WND really deserves that swastika after all.
(Image: The Foward)
Posted by Terry K. at 12:17 AM EDT