WND Fearmongers And Misleads About Ex-Felons Voting in Virginia
Topic: WorldNetDaily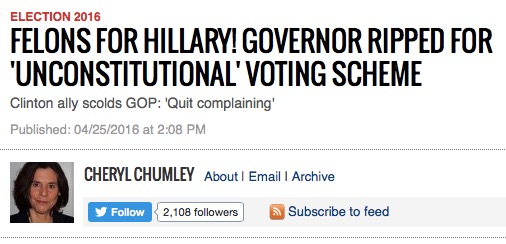 So Virginia Gov. Terry McAuliffe issued an executive order restoring voting rights to felons who have served and completed their sentences. Cue WorldNetDaily freaking out over it and misleading about it.
An April 25 WND "news" article by Cheryl Chumley -- with the unsubtle headline "Felons for Hillary!" -- kicked off the freakout over "Virginia's just-announced open door to 206,000 felons to vote in the looming presidential election," adding that these people "includ[e] those who served time for violent crimes, like rape and murder." But Chumley waited until the final paragraph of her 20-paragraph article to mention that the order applies only to felons "who completed his or her sentence and all other requirements."
This was followed by an April 27 article by Bob Unruh, which approvingly quoted the right-wing National Review slamming McAuliffe as ""a lawless governor in a party of felons" and suggested that Trump donating money to McAuliffe's campaign -- albeit in a 2009 campaign that McAuliffe did not win; he wasn't elected to the post until 2013, something Unruh doesn't make clear -- is somehow responsible for him issuing the "executive order that will allow hundreds of thousands of convicted felons, including murderers." Unruh waited until the 10th paragraph to mention (by block-quoting National Review) that the order applies only to felons "who have completed their sentences and whatever probation or parole conditions were attached to them."
Joseph Farah ranted in his April 29 column:
In Virginia, Democrat Gov. Terry McAuliffe, the former chairman of the national Democratic Party, the chairman of Bill Clinton's 1996 re-election campaign and the chairman of Hillary Clinton's 2008 presidential campaign, restored the voting rights of more than 200,000 convicted felons, including murderers, rapists and other violent criminals – just in time for the 2016 election. The records of these criminals are effectively expunged, meaning they can serve on juries and if asked on job applications whether they were ever convicted of a felony they can legally say no.
At no point did he mention the important fact that sentences must be completed before voting rights are restored.
Farah spent most of his column whining that "voter suppression" doesn't actually exists but is "really a scare term employed [by Democrats and liberals] to make vote fraud easier, so that the impact of eligible, registered voters is diminished." Farah not only cited no evidence of the "vote fraud" that is being eliminated by the right-wing push for voter ID laws and similar efforts, he apparently missed the news that came out the day before his column was published in which conservative Heritage Foundation head Jim DeMint admits that voter ID laws help elect "more conservative candidates."
Then, Phyllis Schlafly takes time from the power struggle at her Eagle Forum to rant about the subject in her May 2 WND column:
We do not want convicted murderers and rapists sitting on juries in criminal trials, and we do not want convicted felons to be picking the next leaders of our nation. Elections are for law-abiding citizens to pick law-abiding leaders, not for criminals to elect fellow criminals.
Rather than admit that the ex-felons will have completed prison sentences and probation before their voting rights are restored, Schlafly instead nit-picks that "Gov. McAuliffe also extended voting rights to felons convicted of violent crimes who have not fully paid restitution to their victims for the injuries they caused."
Posted by Terry K. at 1:48 AM EDT