AIM's Kincaid, An Obama Birther, Won't Touch Cruz Eligibility
Topic: Accuracy in Media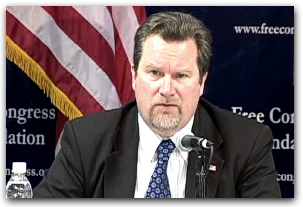 WorldNetDaily's not the only ConWeb outlet that wants nothing to do with Ted Cruz's eligibility issues. Cliff Kincaid writes in his April 20 Accuracy in Media column, in the midst of an anti-Trump tirade complaining that "there is no eligibility requirement to be a Republican":
Trump, for a while, was harping on the fact that Cruz was born in Canada, as if that had any bearing on his credentials as a Republican. It was a diversion from the fact that Trump really wasn't a Republican and had no business in the race. The real question, therefore, is not the eligibility of Cruz but the eligibility of Trump.
Kincaid, however, did think Barack Obama's eligibility was an issue. From September 2009, AIM proclaimed that Kincaid released his own birth certificate in order to raise questions about Obama's:
"My birth certificate includes the names of my mother and father, my mother's doctor, and the hospital in which I was born," said Kincaid. "This certified copy of an original long form document is what anyone who wants to be president should be prepared to produce."

Article II, Section 1 of the United States Constitution, states, "No Person except a natural born Citizen, or a Citizen of the United States, at the time of the Adoption of this Constitution, shall be eligible to the Office of President; neither shall any Person be eligible to that Office who shall not have attained to the Age of thirty five Years, and been fourteen Years a Resident within the United States."

[...]

"Journalism used to ask who, what, when, where, why and how," said Kincaid. "But today's pro-Obama journalists want to ignore those questions when it comes to the constitutional eligibility of the current occupant of the oval office. They would rather accept what the Obama campaign (and now administration) wants them to believe. The Obama document may reflect what is in another document, but we really have no way of knowing. The only way to address these questions is to identify where exactly he was born, in what hospital, and what doctor was present. All of this information should be on an original birth certificate."

Kincaid continued, "It is not unreasonable to ask questions about Barack Obama's birthplace. Anybody who has an original copy of their own birth certificate, or a certified copy of their own original birth certificate, should immediately understand that the Obama version is lacking in basic information that should be publicly available."

Kincaid asked, "Whatever happened to the public's right to know?"
We haven't found anything by Kincaid stating that he's satisfied by Obama's release of his long-form birth certificate. He has promoted discredited filmmaker Joel Gilbert's debunked claim that Frank Marshall Davis is Obama's father.
Additionally, several members of AIM's "Citizens' Commission on Benghazi" kangaroo court are serious Obama birthers who, as far as we know, have not raised similar questions about Cruz.
Apparently, Kincaid's concern about "the public's right to know" doesn't extend to questions about candidates he supports.
Posted by Terry K. at 10:00 AM EDT