WND Wants Hillary Arrested For Riding The Subway
Topic: WorldNetDaily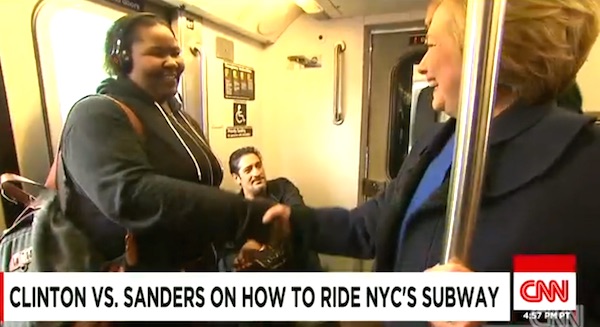 Hillary Clinton has committed the crime of riding the subway in New York City while a TV camera followed her, and WorldNetDaily's Douglas Ernst is on it:
Lost in media coverage of Hillary Clinton struggling to use a subway turnstile in New York City on Thursday was the fact that she broke Metropolitan Transportation Authority rules.

The 'Stop Hillary' campaign is on fire! Join the surging response to this theme: 'Clinton for prosecution, not president'

MTA's "Rules of Conduct" subject the city's street performers to fines and possible imprisonment for taking shows on subway cars. A review of Section 1050.6(c)1 of the subway rules by the Guardian on Friday shows the presidential hopeful flouted them on her way from Yankee Stadium to 170th Street.

"The incident is all the more galling because there are actual, regular New Yorkers trying to make ends meet who are arrested for violating the same rules that Clinton disregards with impunity," the newspaper wrote. "These regular New Yorkers are, of course, the acrobatic showtime performers and musicians – a cultural point of pride for the city – who perform legally on platforms and other areas of the transit system (not always without harassment) but are barred from playing on board subway cars by the same rules that should have prevented Clinton's campaigning."

Matthew Christian of BuskNY, an advocacy group for New York subway performers, said Clinton should not have been allowed to operate by a different set of rules.

"When performers are playing music they are thought to be committing a crime and arrested," Christian told the newspaper by phone. "Apparently, when Hillary Clinton does public speaking on a train car that is not considered a violation of the statute."

Performers who do not keep acts to subway platforms may be subject to civil fines up to $100 and imprisonment of up to 10 days.

The former secretary of state was joined by Rubén Díaz Jr, the president of the borough of the Bronx, and a gaggle of reporters.
Ernst doesn't mention that the Guardian piece he's regurgitating is opinion, not reporting, and the author, Ali Gharib, offers no evidence of politicians arrested for politicking on the subway.
Further, neither Ernst nor Gharib seem to understand there's a difference between a politician and a busking musician.
Posted by Terry K. at 8:50 AM EDT