Does MRC's Use Of 'Protesters' Violate Its Nonprofit Tax Status?
Topic: Media Research Center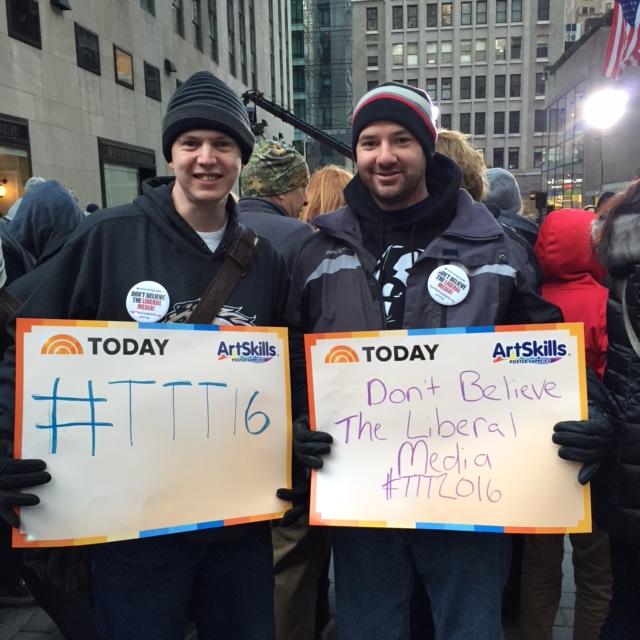 In an April 7 NewsBusters post, the Media Research Center's Kyle Drennen whines that "security for NBC's Today expelled a conservative protester on the plaza outside the morning show's New York City studio for holding up a 'Don't Believe the Liberal Media' sign." But he waits until the final paragraph of the four-paragraph post for an important disclosure: "The protesters were part of the Media Research Center's Tell the Truth 2016 campaign to 'stop the liberal media from rigging the 2016 elections.'"
So the MRC is hiring protesters to photobomb TV shows now? How does that fulfill its purported mission to be "a research and education organization"? More importantly, does that violate the MRC's nonprofit tax status?
The IRS states that 501(c)3 nonprofit organizations like the MRC are "absolutely prohibited from directly or indirectly participating in, or intervening in, any political campaign on behalf of (or in opposition to) any candidate for elective public office." The MRC's anti-media campaign is effectively that -- its thwarted protest is arguably an intervention against Hillary Clinton and in favor of Republican presidential candidates, given how much it attacks the show for failing to uncritically repeat right-wing talking points.
Staging political protests -- which is what the MRC's protesters were doing -- doesn't seem to be part of the purview of an organization under the MRC's tax status. Of course, we're not lawyers, so an actual attorney may differ.
Posted by Terry K. at 2:54 PM EDT
Updated: Friday, April 8, 2016 3:13 PM EDT