The Trump-Flip-Flopping Continues At The MRC
Topic: Media Research Center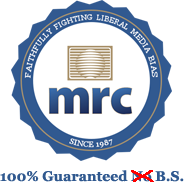 The Media Research Center is taking its indecisiveness over whether to attack or defend Donald Trump to new contradictory levels.
In a March 14 post, Rich Noyes complains that Trump, not "left-wing protesters who forced the cancellation of a presidential campaign event," is getting the blame for violence at Trump campaign events, according to an "an MRC analysis of ABC, CBS and NBC news coverage" spanning "a whopping 45 segments totalling nearly 85 minutes of airtime."
A mere seven hours later, Curtis Houck -- the MRC's king of the conspiracy theory that the "liberal media" is conspiring to make Trump the GOP nominee so he'll lose to Hillary Clinton in November -- devoted an entire post to complaining that Trump got "a whopping 84 percent of the Republican campaign segments" on the TV networks prior to the most recent Super Tuesday elections.
While Houck noted that the Trump coverage was largely made up of stories on "the ongoing fears of violence at Trump rallies," he didn't note that, as his MRC colleague wrote seven hours earlier, that coverage was almost uniformly negative -- which you'd think would be a good thing since MRC boss Brent Bozell is an anti-Trump activist.
The MRC needs to decide on what Trump message it wants to send, because being contradictory isn't working.
Posted by Terry K. at 4:26 PM EDT
Updated: Thursday, March 17, 2016 4:43 PM EDT