WND's Corsi Quick to Baselessly Blame Zika Virus on Illegal Immigrants
Topic: WorldNetDaily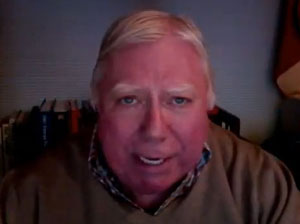 As we've seen with his obsession with Hillary Clinton's health, WorldNetDaily's Jerome Corsi doesn't actually know a whole lot about medicine, so any medical-related judgment from him is specious at best. Yet he perserveres in making medical-related judgments, like in this Feb. 1 article:
In the wake of the World Health Organization's decision Monday to declare the Zika virus outbreak in Brazil an international health emergency, a glance at available evidence suggests open borders contribute to the vulnerability of the United States to the virus.

In November 2014, WND reported dengue hemorrhagic fever had joined Chagas disease, Enterovirus D-68 and Chikungunya – as well as drug-resistant tuberculosis and malaria – on the list of diseases brought to the United States by illegal aliens, including through the several surges of "unaccompanied minors" that the Obama administration had admitted without health screening.
Note that Corsi is admitting to just taking "a glance at available evidence" -- which is basically code for rehashing right-wing xenophobia. Needless to say, Corsi offers no evidence to back up his claim.
Indeed, in the very next paragraph after the ones quoted above, he notes that "he WHO director-general, Dr. Margaret Chan, made clear the outbreak of the Zika virus in Brazil had been declared an international health emergency because of a suspected causal relationship" to microcephaly in newborns. Corsi fails to note that Brazil is not a leading contributor to illegal immigration in the U.S.
As for the other diseases Corsi names as "diseases brought to the United States by illegal aliens," that's not true either. Corsi later repeats his false claim that the "unaccompanied minors" from Central America who flooded into the U.S. were responsible for bringing dengue fever across the border; we've previously documented that the disease was in the U.S. years before. We've also pointed out that the Centers for Disease Control have found no evidence of a link between illegal immigrants and enterovirus outbreaks in the U.S.
Corsi also offers no evidence that illegal immi grants are responsible for chikungunya outbreaks in the U.S. The CDC points out that outbreaks occurred in Africa, Asia and Europe prior to 2013.
Given that WND fearmongers about vaccines and is also home to various representatives of the far-right, anti-vaxxer Association of American Physicians and Surgeons -- who also like to fearmonger about filthy, disease-ridden immigrants -- it's no surprise Corsi is joining a long, dubious line of quack medical information.
UPDATE: Corsi continues baselessly suggesting illegal immigrants are to blame for Zika virus in the U.S. in a Feb. 3 WND article.
Posted by Terry K. at 12:43 AM EST
Updated: Friday, February 5, 2016 2:28 PM EST