Lying Preacher Bradlee Dean Pushes A Passel of Lies About Obama
Topic: WorldNetDaily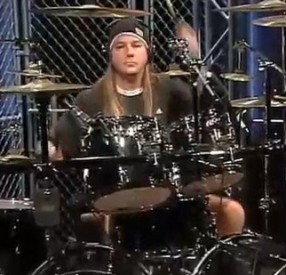 It's been quite a comedown for lying preacher Bradlee Dean in the past couple years. His You Can Run But You Cannot Hide International ministry went defunct amid charges it exploited and mistreated staffers and street team members. He's now reduced to doing a radio show that he has to give away in order to get airtime (stations typically pay for programming). He's also issued a "testimony" called "My War," a title that sounds uncomfortably close to Hitler's "Mein Kampf."
Through it all, Dean has kept his outlet as a columnist for WorldNetDaily, and it's here he's continued to push his lies. His Dec. 17 WND column is effectively one giant lie laden with Obama derangement.
He starts off by regurgitating Obama Derangment Syndrome sufferer Wayne Allyn Root's assertion that he didn't know Obama, and didn't know of anybody who knew him, at Columbia University even though the two attended the school at the same time. In fact, numerous people have recalled Obama at Columbia, and Root himself has contradicted his claim that Obama never attended Columbia by declaring that "Columbia University is a window into Obama's soul" and that "The entire Obama agenda to overwhelm the system, destroy capitalism and murder the middle class was hatched at Columbia."
Dean lies again:
Why was Obama's law license inactivated in 2002? It is said there is no record of him ever taking the Bar exam.

Why was Michelle's law license inactivated by court order? We understand that was forced to avoid fraud charges.
In fact, Barack Obama placed his law license on inactive status in 2007, when he began his run for president, and changed it to "retired" status in 2009. And Michelle Obama had no disciplinary charges against her when she chose to place her law license on inactive status in 1994.
Dean then moves on to more lies:
It is circulating that according to the U.S. Census, there is only one Barack Obama but 27 Social Security numbers and over 80 aliases connected to him.

The Social Security number he uses now originated in Connecticut where he is reported to have never lived.

That number was originally registered to another man (Thomas Louis Wood) from Connecticut, who died in Hawaii while on vacation there. As we all know, Social Security numbers are only issued once – "they are not reused."

No wonder all Obama's records are sealed.
As the Fogbow documents, Obama's Social Security number did not "originate" in Connecticut -- it's likely that, since Obama's Hawaii zip code and one for Connecticut were one digit off, there was a clerical error; someone simply mistyped a number. Also, Wood's Social Security number is one digit lower and not the same number.
Further, the idea that Obama has multiple Social Security numbers is apparently based on uncorrected records from credit reporting databases, not in fact.
Notivce Dean's weasel words: "it is circulating," it is said," "we understand." That's a sign he knows that he's spreading lies -- but he does so anyway. Apparently, Dean has never read the Ten Commandments he purports to preach and follow.
Bradlee Dean is a joke -- the fact that he has lost his ministry and is reduced to ranting on the radio is proof enough of that -- but he does not see it. As long as he continues to lie (and be a columnist for WND), he will continue to be nothing but a sad, hateful joke.
Posted by Terry K. at 8:47 AM EST