WND Movie Reviewer: Pixar Short Promotes 'Demonic' Hindu Religion
Topic: WorldNetDaily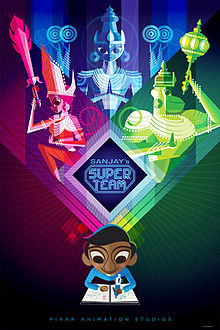 WorldNetDaily movie reviewer Drew Zahn didn't like the new Pixar film "The Good Dinosaur," though for reasons a lot of reviewers didn't like it: "The characters are shallow, the writing simplistic, the humor too sparse, the action too heavy … and the story is just not up to par." He wasn't even that bothered by the film's "evolutionary premise."
The short that preceded the film, on the other hand, Zahn found much more problematic:
Even more troublesome, is the animated short that immediately precedes the film, "Sinjay's Superteam." The story takes place in a Hindu household, where the father kneels before his prayer box, but his son resists joining him. But then the boy has a vision of the Hindu gods coming to life and battling a Hindu demon, thus seeing the gods like his new, favorite superheroes.

On one hand, it's a touching story of a son adopting his father's faith. On the other hand, my Christian faith teaches these Hindu gods are not only pagan, but demonic. And no review on the worldview of a film would be complete without caution over glamorizing a pagan religion.
Zahn didn't mention that director Sanjay Patel based the short on his own experiences growing up, or that the film ends with real-life photos of Patel and his father.Will Zahn tell them that their religion is "demonic"?
Of course, Zahn also criticized the Disney film "Tangled" for committing the offense of teaching adolescents that the can think for themselves, because "nowhere does God prescribe rebellion and defiance as a proper path to adulthood." So maybe Zahn's worldview, and not the film, is the real issue here.
Posted by Terry K. at 12:30 AM EST