At WND, Threatening Violence Is 'Free-Thinking'
Topic: WorldNetDaily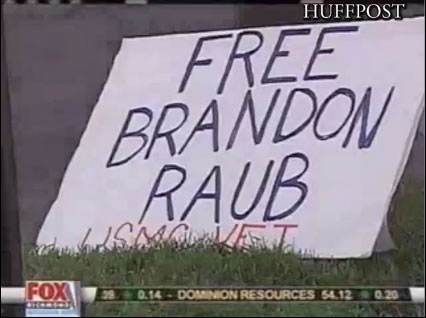 Bob Unruh writes in a Nov. 18 WorldNetDaily article:
Someone doesn't like your social-media postings criticizing the government.

So, big deal, you respond.

But then he calls authorities, and, suddenly, the Secret Service and FBI are on your doorstep. You're declared to have mental problems, and you're handcuffed and locked up, against your will, for a week for a psychological evaluation.

That's the story of decorated Marine Brandon Raub, whose appeal of his case has been refused by the U.S. Supreme Court, leaving in place the precedent of how his case was handled.

"This case was about more than one Marine's right to not be targeted for speaking out against the government," said John W. Whitehead, president of the Rutherford Institute, which represented Raub in his fight over his 2012 detention.
Actually, that's not Raub's story -- and Unruh is hiding the truth. There's a reason Unruh doesn't quote from Raub's "social-media postings criticizing the government," after all.
As we've previously detailed, one of the things Raub posted on Facebook -- amid his rantings that the U.S. government was complicit in the 9/11 attacks -- was a lyric from a rap song, "Sharpen my axe; I'm here to sever heads," and a declaration that "WE MUST TAKE OUR REPUBLIC BACK."
The occasion of Unruh's article was the Supreme Court's refusal to take up Raub's case, but Unruh doesn't clearly explain what the case is about since, as per his history and in defiance of WND editor Joseph Farah's rarely demonstrated insistence that WND reporters are "required to seek out multiple sources and contrary viewpoints in news articles," he is only interested in telling one side of the story and serving as stenographer for Raub's lawyer's at the right-wing Rutherford Institute. As Law 360 details, Raub was appealing previous court rulings that his rights weren't violated in the detention following the posting of his violent words. Law 360 also notes that another thing Raub posted was "This is revenge. Know that before you die," which along with his other statements appear to run counter to attorney John Whitehead's insistence that Raub "never threatened violence."
Law 360 also recited the side of Raub's story Unruh doesn't want you to know -- starting with the fact that it was Raub's fellow Marines, not an anonymous "someone" who "doesn't like [his] social-media postings criticizing the government" as Unruh claims, who alerted authorites about Raub:
In the summer of 2012, several Marine veterans who had served with Raub in Iraq contacted the FBI after he posted a series of increasingly ominous messages on Facebook, according to the opinion.

[...]

FBI and local law enforcement officials visited Raub at his home in Chesterfield County in Virginia, where they observed that his demeanor varied wildly over the course of their questioning, going from completely calm to extremely emotional, according to the opinion.

While Raub didn't threaten violence, he didn't answer when asked if he intended to, according to the opinion.

He also quizzed the FBI agents about government conspiracy theories, such as Raub's believe that the government fired a missile into the Pentagon on 9/11.

After half an hour, the officials decided to call Campbell, who recommended that Raub be detained for an evaluation after they told him about the Facebook posts and their conversation with Raub.

Campbell interviewed Raub in jail, where he observed that Raub was distracted and had difficulty answering questions. Along with Raub's belief that he was destined to lead a coming revolution, Campbell concluded that he might be paranoid and delusional, and asked a judge for a temporary detention order.

At the hospital, a psychologist examined Raub and agreed that he showed symptoms of psychosis, according to the opinion. Hospital staff then petitioned the state court for an order of involuntary admission for treatment.

At first, Raub was ordered to stay in the hospital for 30 days, but then after three days, the court released him, saying that the petition didn't have any factual allegations.
Unruh also makes sure not to mention one more spot of trouble Raub found himself in: In July 2014, Raub was arrested on charges of indecent liberties with a child and contributing to the delinquency of a minor. Investigators said Raub and his brother gave alcohol to two teenage girls. Later, Raub was accused of exposing himself to one of them and attempting to have her touch him inappropriately. Those charges were later dropped after it was ruled that Raub was not in a "custodial or supervisory relationship" at the time one of the teenage girls performed oral sex on him.
But the most amazing part of Ubnruh's deceitful article is the headline: "Supremes hang free-thinking Marine out to dry."

That's right -- threatening violence is just "free-thinking" at WND.
Also, Raub hasn't been hung out to dry -- he's been free since he was three-day detention two years ago.
Posted by Terry K. at 8:53 AM EST