WND Can't Decide Whether Muslims In U.S. Must Be Tracked
Topic: WorldNetDaily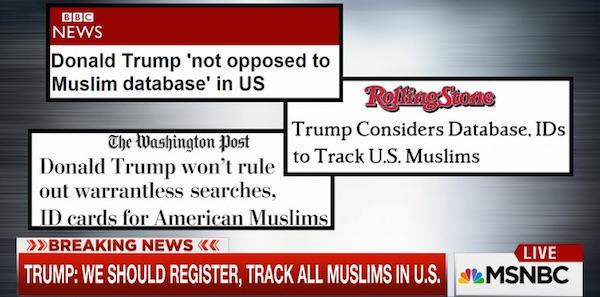 WorldNetDaily can't quite decide what to do with the Muslims. Should they be tracked like Nazis, or not?
On Nov. 20, WND published an article by Douglas Ernst serving as stenographer for Rush Limbaugh's ranting that anyone is dare accusing Donald trump of wanting to track Muslims in America:
Rush Limbaugh blasted the "Drive-by media" on Friday for spreading an orchestrated hit-piece on Donald Trump by a "little know-nothing reporter."

The Associated Pres, BBC, Rolling Stone, the Washington Post and a host of other media outlets ran with a Nov. 19 story first reported by Yahoo News national correspondent and Business Insider senior political correspondent Hunter Walker. The reporter wanted to know if a Trump administration would favor "special identification" for American Muslims as part of a terror-monitoring program.

What do YOU think? Sound off on media coverage of Donald Trump!

We're going to have to – we're going to have to look at a lot of things very closely," Trump said. "We're going to have to look at the mosques. We're going to have to look very, very carefully."

Media then took Trump's decision to ignore allusions to Nazi Germany as de facto support for tyrannical policies.
Then, the same day, WND published an article by Leo Hohmann upset that Muslims in America weren't being tracked Nazi-style:
A Syrian refugee recently resettled in Louisiana has gone missing, and state officials were surprised to find out that federal Homeland Security agents do not track the whereabouts of foreign refugees out of respect for their "constitutional rights."

The refugee was resettled in the Baton Rouge area in June by Catholic Charities, a subcontractor that resettles thousands of refugees in the U.S. every year for the federal government and United Nations. The Catholic group, along with others with Lutheran, Episcopal, evangelical and Jewish affiliations, gets paid by the head with taxpayer money for every refugee they bring to the U.S.

But when this particular Syrian refugee turned up missing about a week ago, the Louisiana State Police confirmed he was headed to Washington, D.C., to unite with family, WBRZ TV in Baton Rouge reported.

Once in Washington, the refugee was apparently supposed to "check in" with authorities there, according to state officials. But he never did.

There is nothing illegal about this because the State Department, which oversees the program, does not require any sort of monitoring or tracking of refugees.
In fact, the refugee was never "missing" -- the Louisiana State Police said that the refugee "was relocated through official channels to the Washington D.C. area."
This being WND, Hohmann's article has not been updated or corrected to reflect the fact that the refugee was never "missing" -- or that it conflicts with WND's purported horror that Trump is being accused of wanting to track Muslims in the U.S.
Posted by Terry K. at 8:52 AM EST