Mission Accomplished: MRC's Bozell Relishes That Media Lacks Credibility
Topic: Media Research Center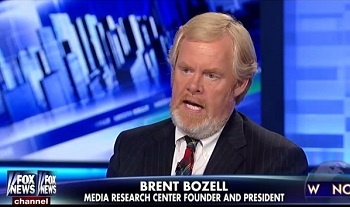 In his recent
interview
with Rush Limbaugh, Media Research Center chief Brent Bozell admitted that the mission of the MRC is to destroy the media's credibility: "It's not how liberal the media are. The question is: How much are they believed, how much are they trusted? You're never going to stop the press from being left-wing. You can't do a thing to stop that. But what you can do is expose their lack of credibility. You have to do it every single day. That's what motivates me, because it works."
Well, mission accomplished: a new Gallup poll states that the public's trust in the mass media has reached an historic low.
Needless to say, the MRC couldn't be more thrilled -- after all, this is the result Bozell and Co. has spent millions of dollars a year over the past nearly 30 years trying to accomplish.
"ALL TIME LOW," screamed the headline on a Sept. 29 CNSNews.com article by Terry Jeffrey reporting the results. (That's how important this poll result is to the MRC: the editor-in-chief at CNS wrote the article.) Jeffrey was particularly tickled by the finding that "an all-time low of 7 percent of Americans say that they have a great deal of trust and confidence in the media."
Bozell takes similar joy in the Gallup poll in his (and Tim Graham's) Sept. 30 column, crowing, "One quarter of the population has no trust in the press. Nada. Nothing. Zero. Zip." Of course, Bozell didn't mention that this is the result he and his fellow right-wing activists have bought.
Bozell and Graham then engage in a personal attack against a Washington Post reporter who defended the media, insulting him as "one of those self-impressed Watergate babies" and a "snooty elite." They rant that the "spiel" the reporter is selling that the media is not organized enough to ram a liberal agenda "is not selling," again staying silent about how much they've spent to sell their own spiel.
But Bozell's project to destroy the media has a fatal flaw: He has not put up anything to replace it. If he really cared about media bias as an issue, he would have created a news organization that truly plays it straight, with none of the bias -- liberal or conservative -- he claims spoils the news.
Instead, Bozell's CNSNews.com is even more biased than he has ever accused the "liberal media" of being -- and has even less credibility as a "news" organization, given that people can't tell the difference between CNS reporters and right-wing protesters.
Bozell could have fixed this alleged problem. Instead, he made it worse. And because he cares more about ideology than the media, he can't see past his glee that the media's credibility is being destroyed to figure out that his own media's credibility has been destroyed as well.
In other words, he's burning down his own house. Maybe he should dial back that appetite for destruction a little bit.
Posted by Terry K. at 8:51 AM EDT