CNS (And Brent Bozell) Latches Onto Another Fringe Religious Figure
Topic: CNSNews.com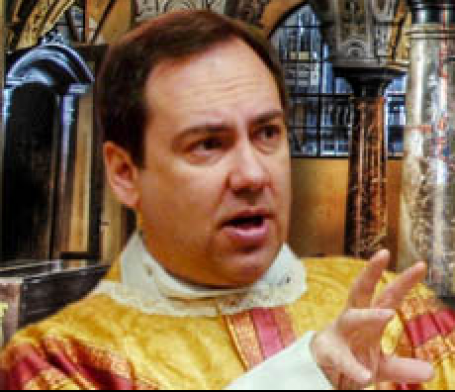 CNSNews.com sure loves its fringe, extremist religious figures all of a sudden, doesn't it?
Driven by CNS managing editor Michael Chapman, the "news" site already uncritically promotes the extreme anti-Muslim, anti-gay and anti-Obama views of Franklin Graham and Rafael Cruz (better known as Ted Cruz's dad).
The latest fringe figure to get approval (and a platform) from Chapman is John Zuhlsdorf, a Catholic priest considered a "traditionalist" and who is the president of the Tridentine Mass Society, a group of Catholics who cling to the Latin version of the Catholic church service that was conducted before the Second Vatican Council declared that church services should be conducted in the language spoken by local church congregants.
Zuhlsdorf is such an extremist that he expressed his opposition to Pope Francis washing the feet of females as part of a Catholic ritual, insisting that only man may have their feet washed. He also engages in the tacky practice of providing "blessed holy cards" to people who donate money to him.
But Chapman is apparently down with that, because he likes Zuhlsdorf's anti-gay attitude. On April 10, Chapman touted Zuhlsdorf's "simple solution" to the issue of "gay activists" who are "attacking Christian bakeries and wedding planners and filing lawsuits to put them out of business because of their religious beliefs": to "show up at the gay wedding wearing a Cross necklace, a Bible-pin on your lapel, and a Bible verse embroidered on your uniform that expresses your morality, such as Mark 10:6-7, 'But at the beginning of creation God made them male and female. For this reason a man will leave his father and mother and be united to his wife.'"
The same day, CNS gave Zuhlsdorf a column to rant about "how homosexualists target Christian businesses for destruction" and advises Christian who cater gay weddings to be "wearing crucifixes and have the Holy Family embroidered on their uniforms. ... When the truck pulls up, speakers will be playing Immaculate Mary. Show them the truck and play the music."
Chapman's Media Research Center bosses, Brent Bozell and Tim Graham, apparently liked Zuhlsdorf's mean-spirited solution so much they touted it in their April 17 column, adding that "if gay couples want to force their lifestyle on others, it naturally follows that religious believers should push their beliefs more elaborately as well.
The MRC's continued move toward the right-wing fringe usually inhabitted by the likes of WorldNetDaily apparently has Bozell's approval.
Posted by Terry K. at 6:17 PM EDT